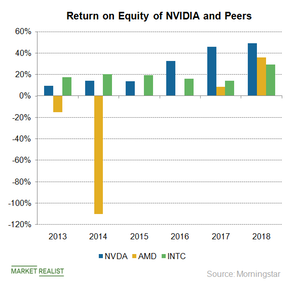 High Efficiency Ratios Make NVIDIA an Attractive Investment
By Puja Tayal

Mar. 1 2019, Updated 10:31 a.m. ET
NVIDIA's efficiency ratios
NVIDIA (NVDA) has been enjoying strong growth since 2015, when it launched its Pascal GPU for gamers and data centers. This growth drove its non-GAAP operating margin from slightly above 25% in fiscal 2016's fourth quarter, ended January 2016, to as high as 44.5% in fiscal 2019's first quarter, ended April 2018. However, the end of the crypto demand and weak demand from China (FXI) pulled down NVIDIA's operating margin to 21.7% in the fourth quarter of fiscal 2019.
Despite slowing profits, NVIDIA managed to improve its efficiency ratio in fiscal 2019. Efficiency ratios tell us management's efficiency of generating maximum returns from minimum investment.
Article continues below advertisement
Return on investment
A company's ROI (return on investment) shows the profit a company can generate from its total investment. ROI is subject to a company's debt and equity ratio. At the end of fiscal 2019, NVIDIA's ROI rose to 39% from 33.7% in fiscal 2018. This ROI was lower than the 46.8% ROI in the trailing 12 months to October 2018. The ROI fell as the company ended the year with disappointing earnings. Its fiscal 2019 fourth-quarter net income fell 54% year-over-year.
NVIDIA's ROI was higher than Advanced Micro Devices' (AMD) and Intel's (INTC) ROI of 19.34% and 21.3%. AMD's and Intel's ROI was lower partly because they have higher leverage than NVIDIA. So we'll look at their ROE (return on equity), which is unaffected by debt.
Return on equity
A company's ROE shows the profit a company can generate from shareholder capital in a particular period. A company can improve its ROE by repurchasing shares or improving net income.
NVIDIA repurchased $1.58 billion worth of stocks in fiscal 2019, which helped it improve its ROE. At the end of fiscal 2019, NVIDIA's ROE rose to 49.3% from 46.05% in fiscal 2018. This ROE was lower than the 59.3% ROE in the trailing 12 months to October 2018. NVIDIA's ROE was higher than AMD's and Intel's ROE of 35.9% and 29.3%.
NVIDIA's higher efficiency ratios than peers, low valuation, and technical weakness make it an attractive stock for long-term investors. The stock should remain weak in the first half of 2019 but pick up in the second half or end of the year.