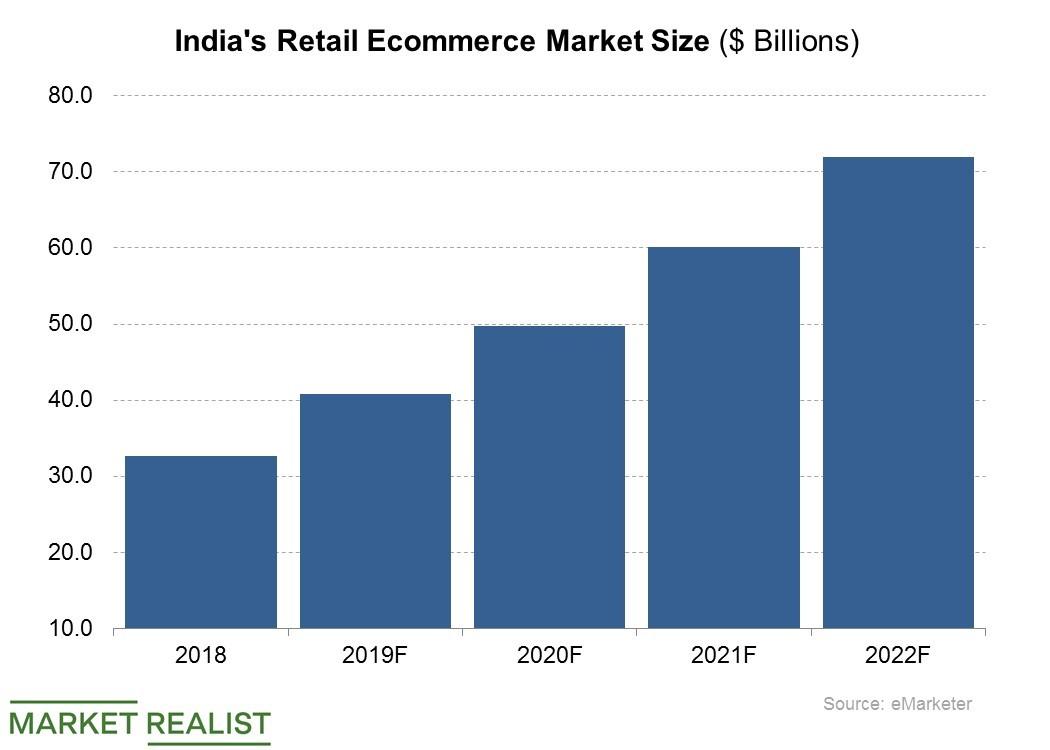 Have the New Rules Altered Amazon's View of India?
By Neha Gupta

Feb. 14 2019, Updated 8:31 a.m. ET
Amazon forced to restructure Indian investments
India's stringent new e-commerce regulations are viewed as a blow to companies such as Amazon (AMZN) and Walmart (WMT) and their expansion plans in the country. Walmart controls Flipkart, one of the top e-commerce companies in India.
To comply with the new e-commerce regulations in India, Amazon has been forced to restructure its investments in the country, such as selling stakes in joint venture companies whose subsidiaries sell products on its Indian marketplace. But Amazon still sees a bright future for its retail business in India despite the regulatory blow it has had to absorb in the country. At an investor briefing following the release of Amazon's results for the fourth quarter, its CFO, Brian Olsavsky, said that the company remains excited about its long-term prospects in India.
Article continues below advertisement
Amazon chasing $72 billion revenue opportunity in India
Amazon is planning to invest as much as $5.5 billion in growing its business in India as it seeks to capitalize on the shift to online shopping in the country. According to eMarketer estimates, Indian consumers spent $32.7 billion shopping online in 2018. This amount is forecast to exceed $71.9 billion by 2022.
The attractive revenue opportunity in India's e-commerce industry has also drawn the interest of many international companies, including eBay (EBAY), Alibaba (BABA), and Berkshire Hathaway (BRK). eBay owned a stake in Flipkart, which it sold to Walmart last year, and it now plans to relaunch direct operations in India. Alibaba owns a large stake in Paytm, one of the leading e-commerce and digital payment providers in India. Last year, Berkshire Hathaway invested more than $350 million in a minority stake in Paytm, CNBC reported.