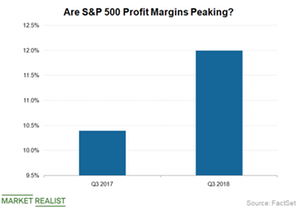 Gundlach: Could US Economic Indicators Be Signaling a Recession?
By Anuradha Garg

Updated
Leading indicators
After being asked about the timing of the next recession during his interview with Yahoo Finance, Jeffrey Gundlach said that while the global stock market (ACWI) peaked on January 26, 2018, US markets (SPY) hung on until October. Whereas there is talk of a synchronized global slowdown this year, "the indicators that we look at for a recession are not even flashing fully yellow yet," according to Gundlach.
He also talked about leading indicators, the "granddaddy of them all" being the Conference Board Leading Economic Index, which "has gone negative before the front end of a recession." He acknowledged that while the indicator has weakened since touching a high, it is still up ~5% year-over-year.
Article continues below advertisement
Sentiment surveys
Sentiment surveys, on the other hand, have started looking slightly worse, stated Gundlach. Purchasing managers' indexes, for example, "typically collapse in a very observable way before the front end of recession comes," which is happening "sort of right now." He pointed out that a major indicator would be the unemployment rate going above its 36-month moving average, adding that the "unemployment rate right now is at 4.0%," close to its moving average of 4.3%.
Junk bond spreads
The "Bond King" has repeatedly talked about junk bond (JNK) (BND) spreads and how they could signal a coming recession. During his Yahoo Finance interview, he pointed out that "junk bond spreads before the last two recessions really blew out by several hundred basis points before the front end of the recession came." "We had a scare on that during December," he added, "But the rebound has been all the way back to the breakdown point. So high yield spreads are starting to look a little less scary."
Gundlach stated that "I think right now it's too early to say that we have the necessary conditions in place for a recession on the foreseeable horizon, which is good news. But the bad part of that news is the foreseeable horizon is typically no longer than six months– usually, more like four to six months. So for now, that seems to be OK."