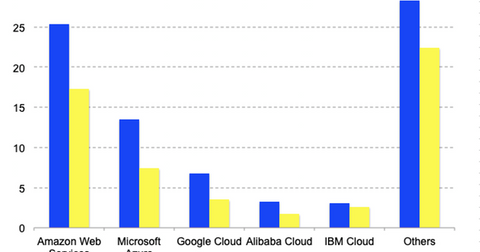 Google's Market Share in the Cloud Space Has Increased
By Sanmit Amin

Feb. 15 2019, Published 10:03 a.m. ET
Global spending on cloud infrastructure has been relentless
Global spending on cloud infrastructure refuses to slow down. According to Canalys, global spending on cloud infrastructure has surged 46.5% in the last year to $80.4 billion compared to 2017.
Canalys attributed this growth to massive investments by cloud infrastructure companies. The growth is also being fueled by the huge processing needs of companies and governments.
Article continues below advertisement
Google is spending big to boost its market share in cloud infrastructure
One of the companies that have been spending billions of dollars on data centers, which are used to power cloud infrastructure businesses, is Alphabet's (GOOG) Google.
According to the same report by Canalys, Google's Cloud segment grew 93.9% to $6.8 billion in 2018, solidifying its third-place position in the global cloud infrastructure space.
Alphabet said it spent $6 billion on research and development during the fourth quarter of 2018, a 40.1% YoY increase, most of which was in fast-growing areas such as cloud and AI.
Google's market share in the space is increasing
Google is still trailing Amazon (AMZN) and Microsoft (MSFT) in the cloud infrastructure space, but the company is working to bridge the gap between itself and the top two.
According to Canalys, Google Cloud had an 8.4% market share in the cloud infrastructure space in 2018 compared to the 31.6% market share for Amazon Web Services and the 16.8% market share for Microsoft Azure. Google Cloud's market share in 2017 was 6.4%.