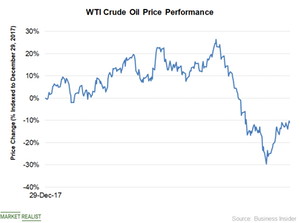 Falling Oil Prices Could Boost Spirit Airlines' Q4 Profits
By Anirudha Bhagat

Updated
Falling oil prices
Since October, oil prices have been seeing a bearish trend. Concerns about a supply shortage have vanished. Oil prices have fallen ~29.6% from their peak of $76.40 per barrel on October 3 to $53.79 as of January 31.
Before October, analysts and traders expected a crude oil supply shortage in anticipation of stricter US sanctions on Iran. However, the sanctions were softer than expected. The Trump Administration gave temporary waivers to eight countries including India and China—major Iranian oil importers.
Article continues below advertisement
With increased output from the US, Saudi Arabia, and Russia, concerns about the global supply glut eased significantly. Therefore, traders sold oil futures globally, which sent WTI crude oil prices down. Lower oil prices have given investors and analysts confidence that airline operators will increase their profitability in the coming quarters.
Recently, Spirit Airlines (SAVE) reduced its fourth-quarter per gallon fuel cost forecast by $0.01 to $2.26. The revised guidance range shows a potential YoY (year-over-year) rise of 14.7%. When the guidance is compared to the third quarter, there's a decline of 4.2%. The company's profits could improve in the fourth quarter.
In the third quarter, Spirit Airlines' adjusted pre-tax income grew 27% YoY to $130.7 million. The fuel cost increased 31.8% during the quarter to $2.28 per gallon.
Airlines' improving profitability
Fuel costs account for a large portion of airlines' total expenses. Airlines bore the brunt of higher oil prices until the third quarter. Major US air carriers (JETS) including American Airlines (AAL), Delta Air Lines (DAL), and United Airlines (UAL) recorded over 30% increases in their third-quarter fuel costs, respectively, which impacted their pre-tax operating profits.
Since oil prices cooled off significantly during the fourth quarter, most airlines have reported an improvement in their respective pre-tax income. Delta Air Lines' adjusted pre-tax income increased 20.6% YoY to $1.18 billion in the fourth quarter despite a 25.4% increase in the fuel cost per gallon.
United Airlines' fourth-quarter adjusted pre-tax income increased 25% YoY to $814 million, while the fuel cost per gallon rose 20.4% to $2.30. Southwest Airlines' (LUV) fourth-quarter pre-tax income rose 15.5% YoY to $817 million. The fuel cost per gallon rose 4.2% in the quarter to $2.25.