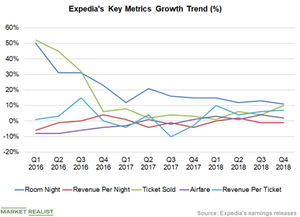 Expedia: Key Revenue Metric Trends in Q4
Room night growth
Lodging remains the major revenue growth driver for Expedia (EXPE). The business unit accounted for 69% of the company's fourth-quarter revenues. The segment reported a strong 10% YoY (year-over-year) increase in its fourth-quarter revenues due to an 11% increase in room nights. The increase was partially offset by a 1% fall in the revenues per room night.
During the fourth quarter, Expedia added 35,000 net new properties to its core lodging platform, which brought the total property count to 630,000 (excluding HomeAway). The total property count was ~43% higher than the number of properties at the end of 2017. Including HomeAway's 370,000 property listings, Expedia's total properties available on its core lodging platform exceed one million.
Expedia's Air travel business accounts for 8% of the total fourth-quarter revenues. The segment's fourth-quarter revenues grew 18% YoY mainly driven by 10% growth in the ticket volume, a 2% increase in airfare, and a 7% rise in revenues per ticket in the fourth quarter.
The company's advertising and media segment accounted for 9% of the total fourth-quarter revenues. The business unit's revenues rose 9% due to strong growth at Expedia Group Media Solutions. Expedia's Trivago (TRVG) subsidiary recorded a 13% YoY fall in its fourth-quarter revenues.
Article continues below advertisement
What's ahead?
Expedia's mobile-centric product designs along with the sustained focus on enhancing its product portfolio and marketing initiatives will likely continue to drive its user base. The continuous shift in travel bookings through online and mobile devices is expected to benefit the company in the long run. Expedia's management is focused on improving the number of nights stayed and the room revenues per night—a critical revenue metric.
The digital booking market is expected to grow exponentially in the next few years. Analysts expect the growing US economy to drive global travel demand.
The Amplify Online Retail ETF (IBUY) has allocated 3.3% of its fund in Expedia. IBUY has also invested 3.3% in TripAdvisor (TRIP), 3.1% in Booking Holdings (BKNG), and 1.4% in Ctrip.com International (CTRP).