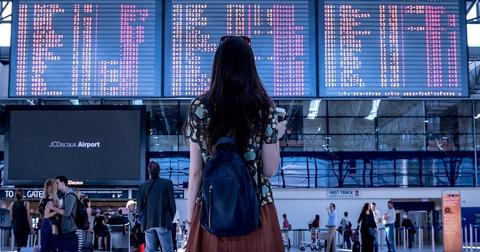 Expedia Is Likely to Post Double-Digit Earnings Growth in Q4
By Anirudha Bhagat

Updated
Fourth-quarter expectations
Expedia Group (EXPE) plans to report its fourth-quarter 2018 earnings results on February 7. The online travel agency's EPS have surpassed Wall Street's estimates in the last three quarters. Moreover, the company's bottom-line results have registered strong double-digit growth on a YoY (year-over-year) basis.
It seems likely that the travel agency will continue its trend of reporting better-than-expected bottom-line results and witness strong double-digit quarterly earnings growth in the fourth quarter. For the fourth quarter, analysts expect adjusted EPS of $1.08 for Expedia, implying a YoY rise of 28.6%. Analysts expect increased revenue, efficient cost management, and lower taxes to drive the company's fourth-quarter earnings higher.
What's driving this optimism?
An improving US economy as reflected in the country's growing GDP, a healthy job market, and a steady rise in wages is driving travel demand in the domestic market. A strong travel demand environment will likely have a positive impact on Expedia's fourth-quarter top-line and bottom-line results.
According to Technavio's latest report, global online booking is anticipated to increase at a compound annual growth rate of 11% from 2018 to 2022. With its enriched global footprint, Expedia is well positioned to benefit from growing demand for online travel booking platforms.
Furthermore, the travel agency's sustained focus on marketing initiatives and the enhancement of its product portfolio, along with its mobile-centric product design, should further boost its user base in the fourth quarter.
Moreover, the company's sustained focus on rationalizing S&M (selling and marketing) expenses is likely to aid fourth-quarter bottom-line results further. In the third quarter, Expedia's S&M expenses as a percentage of revenues contracted 350 basis points. Lower S&M costs and other expenses helped the company's operating margin to improve by 430 basis points to 20.5%.
Going forward, analysts believe that the enactment of the Tax Cuts and Jobs Act will lower Expedia's tax burden in the fourth quarter. They anticipate the tax rate for the quarter to come down to 20.7% from 29.3% in the year-ago quarter.
Expectations for peers
Analysts are projecting strong EPS growth for the majority of online travel agencies (XWEB) in the fourth quarter. TripAdvisor's (TRIP) Q4 EPS are likely to increase approximately five-fold to $0.29. Booking Holdings (BKNG) is anticipated to report 15.2% higher EPS and reach $19.43. However, Ctrip.com International (CTRP), another major competitor, is expected to report a loss of $0.22 compared with earnings of $1.56 it reported in the year-ago quarter.