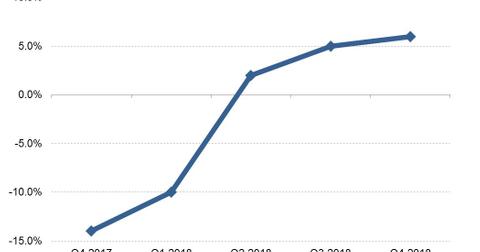 Ericsson Bemoans Europe's Slow 5G Progress
By Ruchi Gupta

Updated
Europe's undoing includes heavy regulation
Ericsson (ERIC) fears that Europe could be shooting itself in the foot by failing to provide an environment that would spur the uptake of 5G technology. In a recent blog post, Ericsson CEO Börje Ekholm noted that the lack of spectrum, high spectrum cost, and excessive regulation could cause Europe to fall behind economies like the United States and China on 5G. The executive noted that 5G spectrum auctions have not been held in the majority of European countries, yet operators are in need of the spectrum to be able to provide services over 5G networks. 5G connectivity supports significantly faster download speeds than the current 4G networks.
Article continues below advertisement
United States and China vying to lead 5G race
Given the huge economic potential in 5G connectivity, large economies such as the United States, China, and Japan are vying to be the first to deploy nationwide 5G networks. In the United States, leading operators Verizon (VZ) and AT&T (T) have already started offering 5G services in select cities. In China, the country's top three operators, China Mobile (CHL), China Telecom (CHA), and China Unicom (CHU) last year inked 5G-related deals worth $2.3 billion with Nokia (NOK).
While several large operators in Europe are underway with 5G network trials, Europe's heavy regulation and high spectrum cost aren't helping them. For telecom equipment vendors like Ericsson and Nokia, the slow 5G progress in Europe is a cause for concern given that Europe is their home market.
Ericsson generates the majority of its revenue from network equipment sales. The company's networks revenue increased 6.0% year-over-year to $4.5 billion in the fourth quarter, which ended in December.