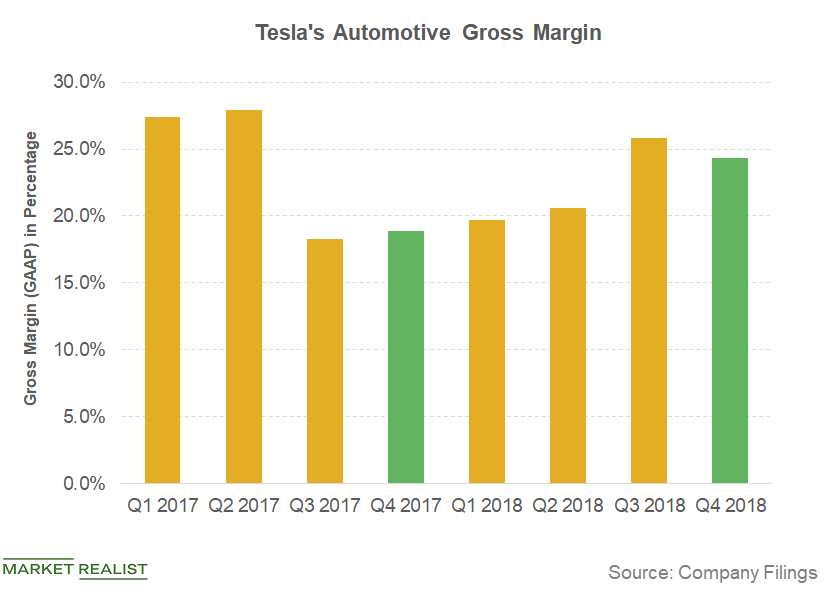 Elon Musk's Twitter Habits Could Get Him into Trouble—Again
By Jitendra Parashar

Feb. 25 2019, Updated 9:00 a.m. ET
Elon Musk's Twitter obsession
On February 19 after the market closed, Tesla (TSLA) CEO Elon Musk tweeted a picture with the caption "4000 Tesla cars loading in SF for Europe."
Tesla started its first Model 3 deliveries for the European and Chinese markets in the first quarter of 2019, and the move is likely to affect its North American Model 3 deliveries.
Article continues below advertisement
In his next tweet, Musk highlighted Tesla's achievement, saying, "Tesla made 0 cars in 2011, but will make around 500k in 2019." It's important to note that in its fourth-quarter earnings report, Tesla guided for the delivery of 360,000–400,000 vehicles in 2019. A few hours after the tweet, Musk realized his mistake and corrected it, saying, "Meant to say annualized production rate at end of 2019 probably around 500k, ie 10k cars/week. Deliveries for year still estimated to be about 400k."
Last year, Musk's "taking Tesla private at $420" tweet led him into legal trouble with the SEC (Securities and Exchange Commission). To settle the SEC fraud charges, Musk had to quit his position as Tesla's chair, and Musk and Tesla each had to pay $20 million in penalties.
Back then, an SEC official said, "Taking care to provide truthful and accurate information is among a CEO's most critical obligations." Elon Musk should think twice before tweeting anything related to Tesla, as any incorrect information could lead him into legal trouble again this year.
As of February 20, Tesla has fallen 9.1% YTD (year-to-date), while other automakers (XLY) General Motors (GM), Ford Motor Company (F), and NIO (NIO) have risen 19.4%, 16.9%, and 19.6%, respectively, YTD.
In the next article, we'll discuss why Tesla needs to take more safety measures at its production plant in Fremont, California.