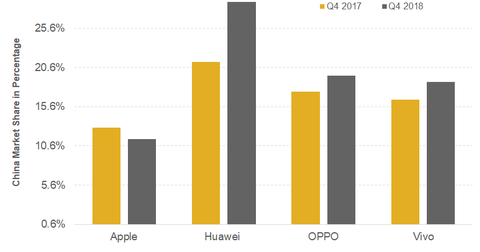 Does Tim Cook Disagree with Buffett's Views on iPhone Pricing?
By Jitendra Parashar

Updated
Warren Buffett's investment in Apple
David Einhorn–owned Greenlight Capital sold all its long positions in Apple (AAPL) stock near its 2018 high in the third quarter of 2018. In the fourth quarter, Warren Buffett, too, seemingly became worried about Apple's China troubles. Buffett's investment company, Berkshire Hathaway, sold ~2.89 million Apple shares in the period.
Nonetheless, Apple continues to be Berkshire's largest single holding, with a value of ~$39.37 billion as of the end of the fourth quarter.
As of February 15, Apple stock has risen 2.4% month-to-date compared to the 2.6% gains in both the S&P 500 Index (SPY) and the NASDAQ Composite Index (QQQ) (VTI).
Article continues below advertisement
Tim Cook on iPhone pricing
There's always been a debate about Apple's product pricing strategy. Some experts believe that the company's overpriced products could be hurting its sales lately. In contrast, Buffett called the iPhone "enormously underpriced" in an interview with CNBC in October last year.
On January 29, during Apple's first-quarter earnings conference call, its CEO, Tim Cook, was asked about his views on the new iPhone's pricing. In his answer, Cook highlighted the fact that there had only been a minor increase in iPhone prices in the United States in the previous year. However, he admitted that he considered the recent sharp increase in iPhone prices in the international market to be one of the factors that could be hurting iPhone sales. He blamed unfavorable foreign exchange movements and fewer subsidies for the sharp increase in the iPhone's international market price last year.
While Buffett might be looking solely at the increasing importance of the iPhone in users' day-to-day lives, he may have ignored the fact that these days, the smartphone market is highly competitive.
In 2019, Apple aims to reduce its iPhone prices in China by taking steps such as absorbing foreign exchange movements.