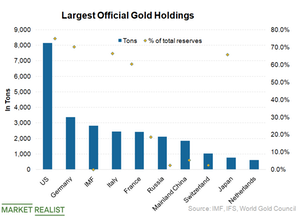 Could Central Bank Buying Be a Major Driver for Gold in 2019?
By Anuradha Garg

Feb. 4 2019, Updated 4:50 p.m. ET
Central bank buying
We discussed in the previous article that central bank buying supported gold demand (GLD) in 2018. In this article, we'll see if this can drive gold demand in 2019 as well.
As we highlighted in Why the World Gold Council Thinks Gold Is 'Interestingly Balanced,' the World Gold Council's chief market strategist and head of research, John Reade, underlined several reasons for gold's bright outlook, which included continuous buying from central banks and the possible addition of more central banks to the list of buyers.
Article continues below advertisement
Credit Suisse, Goldman Sachs on central bank buying
De-dollarization supporting gold demand
Most market participants believe that the move toward gold is due to central bankers' intent to diversify away from the US dollar (UUP) (USDU). Russia's gold-buying activity is certainly a case in point. More and more countries want to reduce their dependence on the US dollar and back up their debt with gold instead.
Central banks' continuous increase in gold reserves seems to be a good omen for gold prices. Given rising trade tensions and other geopolitical uncertainties, countries—especially China (FXI) and Russia—are expected to keep adding to their gold reserves. It's also noteworthy that these two countries' gold reserves as a proportion of their total reserves are still far below the reserves of developed countries such as the United States (SPY) (DIA), France, and Italy.
Physical gold demand is another major determinant of gold prices. In the next article, we'll see how the demand for gold is expected to progress in 2019 based on its trends in 2018.