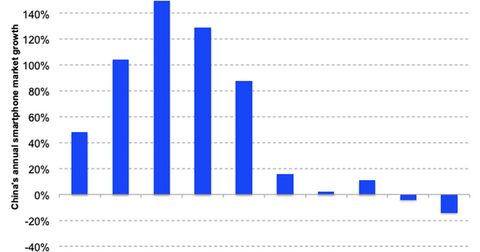 China Was Indeed a Big Factor behind Apple's Poor First Quarter
By Sanmit Amin

Feb. 21 2019, Updated 7:32 a.m. ET
Apple's shipments in China fell 19.9% YoY in the previous quarter
Apple (AAPL) is not the only smartphone vendor that's seeing shrinking unit sales. The whole smartphone space has been declining for a while now. When Apple slashed its guidance for the first quarter of fiscal 2019 (quarter ended December 2018) a couple of months back, CEO Tim Cook pointed out that the weak sales in China were the main culprit behind the weakness.
According to a new report by IDC, Apple's iPhone sales in the country reached 11.8 million in the December quarter, falling a whopping 19.9% from the same quarter last year. The total sales volume in China fell 9.7% during the same quarter, meaning that Apple's market share in China fell from 12.9% in the December quarter in 2017 to 11.5% in the previous quarter.
Article continues below advertisement
Apple was adversely affected by a slowdown in China
However, for the December quarter, Apple did jump over Xiaomi to claim the fourth spot in China after the Chinese vendor's smartphone shipment in China fell 34.9% YoY in the last quarter of the year. Apple said that its total revenue from iPhones fell 15% YoY in its first quarter of 2019. Apple stopped disclosing the unit sales for any of its hardware products.
However, assuming that the iPhone average selling price would have been similar to that of the holiday season in 2017, given its $1099 iPhone XS Max, iPhone unit sales would have declined ~15% YoY in the December quarter.
China still is an important market as it made up 15.6% of Apple's total revenue during the December quarter. It made up 20.3% in the same quarter last year. Apple's revenue from China fell a worrying 26.6% YoY.
For all of 2018, China's smartphone shipments fell 10.5% from 2017, according to IDC. Apple sold 36.3 million iPhones in 2018, falling 11.7% from the previous year.