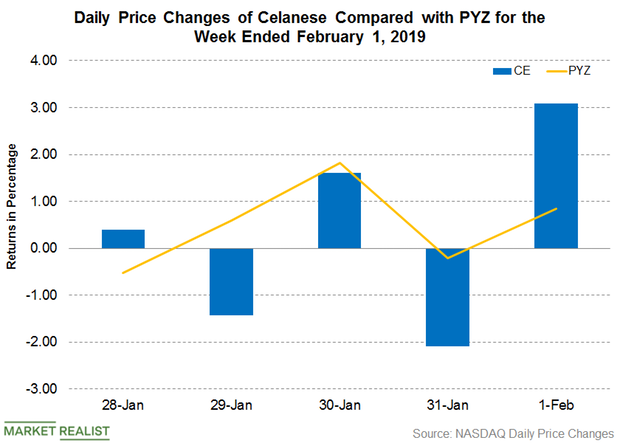 Celanese to Increase Acetyl Intermediates Prices
By Peter Neil

Feb. 4 2019, Updated 9:45 a.m. ET
Celanese to increase acetyl intermediates prices
On January 31, Celanese (CE) announced that it would increase acetyl intermediates prices. The price increase is effective immediately or as the contract allows. The impact of the price increase will likely be seen in Asia—outside China. Below is the list of the price increases for acetyl intermediates products:
Acetic acid prices will increase by $90 per metric ton.
Vinyl acetate monomer prices will increase by $50 per metric ton.
Butyl acetate and ethyl acetate prices will increase by $50 per metric ton.
The impact of the price increase could be positive for Celanese if the volumes don't drop. The impact will likely be more visible in the first-quarter earnings. In the fourth quarter of 2018, the Acetyl Chain segment reported revenues of $936 million compared to $888 million in the fourth quarter of 2017—an increase of ~5.0% on a year-over-year basis.
Article continues below advertisement
Stock price update
Celanese stock closed at $98.71 and gained ~1.5% for the week ending February 1. Despite the gains, Celanese stock traded 0.9% below the 100-day moving average price of $99.63. Celanese's 100-day moving average has fallen from a high of $114.16 to the current levels, which indicates weakness in the stock. However, on a year-to-date basis, Celanese stock has gained 10.3%, while Eastman Chemical (EMN), Westlake Chemical (WLK), and LyondellBasell (LYB) have gained ~13.0%, 16.6%, and 7.9%, respectively.
Celanese's 14-day RSI (relative strength index) score of 59 indicates that the stock isn't overbought or oversold. An RSI of 30 and below indicates that the stock is oversold. An RSI of 70 and above indicates that the stock has moved into the overbought position.
Investors could hold Celanese indirectly through the Invesco DWA Basic Materials Momentum ETF (PYZ). PYZ had 3.3% exposure to Celanese as of February 1. PYZ gained 2.5% for the week.