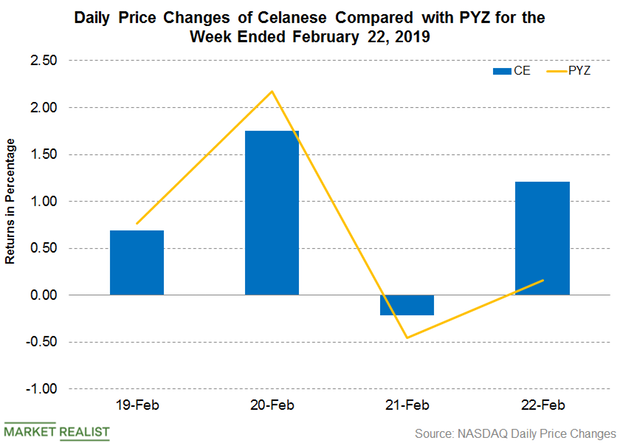 Celanese Announced Higher Acetyl Intermediates Prices
By Peter Neil

Feb. 26 2019, Updated 7:31 a.m. ET
Acetyl intermediates
On February 20, Celanese (CE) announced higher prices for acetyl intermediate products. The price increase is seen across different regions as specified below:
Vinyl acetate monomer prices will increase by 100 euros per metric ton across Europe, the Middle East, and Africa. In the United States and Canada, the prices will increase by $0.05 per pound. In Mexico and South America, the prices will increase by $110 per metric ton. The price increase will be effective from March 1 or as per the contract allows.
Acetaldehyde will increase by 150 euros in Europe, the Middle East, and Africa. The price increase will be effective immediately or as the contract allows.
The product price increase will be more visible in the first quarter. In the company's fourth-quarter earnings, the Acetyl Chain segment reported revenues of $936 million—5.4% growth compared to the previous year. The price increase could help improve the segment's revenues in the upcoming quarter.
Article continues below advertisement
Stock price update
Celanese stock closed at $103.74 and gained ~3.5% for the week ending February 22. The gains caused Celanese stock to trade 6.2% above the 100-day moving average price of $97.67. Celanese's 100-day moving average has fallen from a high of $114.38 to the current levels, which indicates weakness in the stock. However, on a year-to-date basis, Celanese stock has risen 15.9%, while Eastman Chemical (EMN), Westlake Chemical (WLK), and LyondellBasell (LYB) have risen ~16.8%, 17.0%, and 8.2%, respectively.
Celanese's 14-day RSI (relative strength index) score of 68 indicates that the stock is very close to being overbought and can expect the stock prices to come down. An RSI of 30 and below suggests that the stock is oversold. An RSI of 70 and above indicates that the stock has moved into the "overbought" position.
Investors could hold Celanese indirectly through the Invesco DWA Basic Materials Momentum ETF (PYZ). PYZ had 3.4% exposure to Celanese as of February 22. PYZ rose ~2.7% for the week.