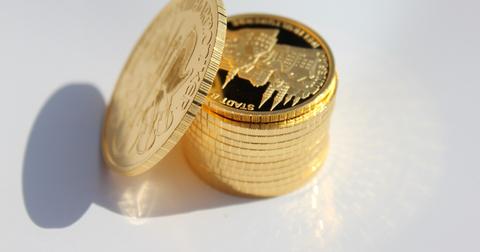 Buffett on Gold: 'Magical Metal' Is No Match for 'American Mettle'
By Anuradha Garg

Updated
Warren Buffett and gold
Berkshire Hathaway (BRK-B) chair Warren Buffett's disdain for gold is well known. He has been quite vocal about how gold does not yield anything in terms of value. Once he said, "It doesn't do anything but sit there and look at you." In his latest shareholder letter, Buffett once again made his dislike for gold clear.
He highlighted the 40,000% surge in US national debt over the last 77 years and said that if you had "panicked at the prospect of runaway deficits and a worthless currency" and had bought 3.25 ounces of gold (GLD) instead of investing in equities, "you would now have an asset worth about $4,200, less than 1% of what would have been realized from a simple unmanaged investment in American business. The magical metal was no match for the American mettle."
Silver (SLV), on the other hand, meets Buffett's investing principles, as it has industrial and medical uses.
Gold acts as a diversifier in a portfolio
While Buffett's approach might be right over the long term, as stocks generate higher returns compared to gold, most investors don't expect gold to outpace the market returns anyway. They hold gold as insurance against a system breakdown, skyrocketing inflation, trade disputes, and geopolitical concerns. Even central governments keep a part of their reserves in gold holdings as a hedge against market risks. Many hedge fund managers, including Ray Dalio, also suggest investors keep at least 5% to 10% of their portfolio in gold investments.
Gold's correlation to assets
Gold also acts as a great diversifier. The above graph shows the correlation coefficient of gold (GLD), the VanEck Vectors Gold Miners ETF (GDX), the S&P 500 (SPY), and the iShares Barclays 20+ Year Treasury Bond ETF (TLT), considering monthly returns for ten years.
The correlation coefficient always lies between -1 and 1. The correlation between gold and Treasuries is 0.1 and between the S&P 500 (SPY) and gold is also 0.1. The correlation between gold and gold miners (GDX) (JNUG) is quite high at 0.84, which means that gold adds diversification benefits to a portfolio that contains the other three assets. Gold miners are a close second. So, investors should consider having at least a small amount of gold in their portfolios. By diversifying, investors can improve risk-adjusted returns.
In the next part, we'll see how Buffett's and Ray Dalio's views vary on gold investing.