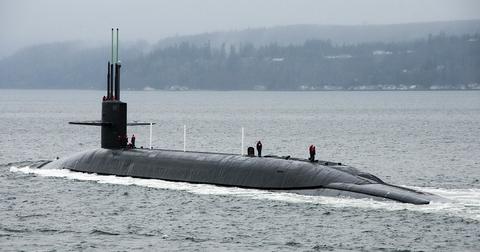 Boeing Wins $43 Million Navy Contract to Build Super Submarines
By Anirudha Bhagat

Feb. 19 2019, Published 8:10 a.m. ET
Boeing wins Navy contract
Last week, the Boeing Company (BA) announced winning a $43 million contract from the US Navy to build four large unmanned submarines. The US Navy named the submersible the Orca Extra Large Unmanned Undersea Vehicle (or XLUUV).
Lockheed Martin (LMT) was also in the bidding race for the contract. In 2017, the US Navy awarded each of the companies contracts of over $40 million to design and develop new autonomous submarines.
Article continues below advertisement
However, it was Boeing's unmanned design, the Echo Voyager vessel, that attracted the Navy most. The submarine won't require any live support and therefore can remain underwater for months at a time. The 51-foot long ship is powered by a diesel-electric engine and can dive up to 11,000 feet under the sea.
The US Navy has specified to Boeing that the XLUUV should be modular and based on an open architecture design. The vessel will be equipped with features including navigation, control, core communication, power distribution, and mission sensor systems. Once completed, the Orca can be used in anti-submarine warfare, anti-surface warfare, mine countermeasures, electronic warfare, and strike missions.
Boeing will build the submersibles in partnership with Huntington Ingalls Industries (HII) at the latter's Newport News shipyard at Virginia Beach. The defense contractor is expected to complete the project by June 2022.
Incremental revenues
An increase in the number of contract wins means incremental revenues for Boeing. Although the recent Navy deal is a small amount, the successful and timely delivery of the submarines could open new avenues of growth for Boeing.
For the past few years, a lot of autonomous underwater vehicles have been built, but their usages are very limited to common naval and civilian marine operations. However, Boeing's Orca has the opportunity to record a milestone. If the project is successful, the company could get new orders from various parts of the world.
In the defense space, Boeing has recently won approval for the first delivery of its KC-46 Pegasus tanker aircraft from the US Air Force. Regular contract wins have been driving the company's Defense, Space, and Security segment's revenues. The division accounted for ~23% of the company's 2018 total revenues, a 13% YoY improvement, mainly driven by higher contract wins.
Investors can get exposure to Boeing by investing in the Industrial Select Sector SPDR Fund (XLI), which has allocated 8.8% of its funds in the stock. The ETF has also invested 4.5% of its of its holdings in Boeing's rival United Technologies (UTX).