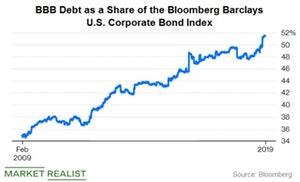 Are 'Fallen Angels' a Threat to the Bond Market in 2019?
By VanEck

Feb. 7 2019, Updated 11:25 a.m. ET
VanEck
A Thoughtful Exclusion
We believe the indexer has exercised discretion with regard to the index rules in a thoughtful and prudent manner. That is not to say the bonds in question are certain to fall further in value, that PG&E investors have been saved from losses, or that the bonds cannot rally from here. Markets are quick to price in bad news, and the reorganization of PG&E could, under reasonable assumptions, leave a high recovery value for the bonds. It is also possible that the situation could change, and that PG&E does not ultimately file for bankruptcy, in which case the bonds could still enter the high yield indices on the next rebalancing date at the end of February.
Article continues below advertisement
From our perspective, the worst case scenario would be the inclusion of a large index component that would have to be sold in one month, causing the incurrence of potentially high transaction costs. However, as has been the case historically with fallen angels, we could also have been buying debt that had already fallen precipitously and priced in significant likelihood of default, only to subsequently rebound in value. For example, just three years ago a wave of energy names entered the index following the collapse in oil prices, which contributed to strong performance in following years.
This is, in essence, the VanEck Vectors Fallen Angel High Yield Bond ETF's underlying strategy and a distinct value proposition of fallen angel investing, which has provided long-term outperformance versus the broader high yield market historically.3
Market Realist
Why were BBB rated bonds in the spotlight this year?
BBB rated bonds came into the spotlight this year as rising inflation and rates led to a rise in input costs for firms, burdening their profit margins, which is what happened with PG&E after the recent wildfires. BBB rated bonds accounted for almost half the US investment-grade index when 2018 began, as the chart below shows.
CNN reported on January 29 that the company has finally filed for bankruptcy protection, facing the pressure of billions of dollars in liability for wildfires
Article continues below advertisement
Despite the sudden downgrade of bonds to the "fallen angel" category, on a broader level, it's not expected to pose a threat to the bond market. In the CNBC article last month, UBS strategist Stephen Caprio mentioned that the immediate danger of investment-grade downgrades could result in forced selling, increasing financing costs for large indebted companies. However, it's unlikely that it could cause a series of junk debt problems.
Investing in "fallen angels" could also prove beneficial for investors who could make a potential investment by trusting on the recovery of the issuer. A fallen angel bond recovery tends to drive up the prices with the increase in demand for the bonds. Investors interested in investing in fallen angel bonds can consider the VanEck Vectors Fallen Angel High Yield Bond ETF (ANGL).