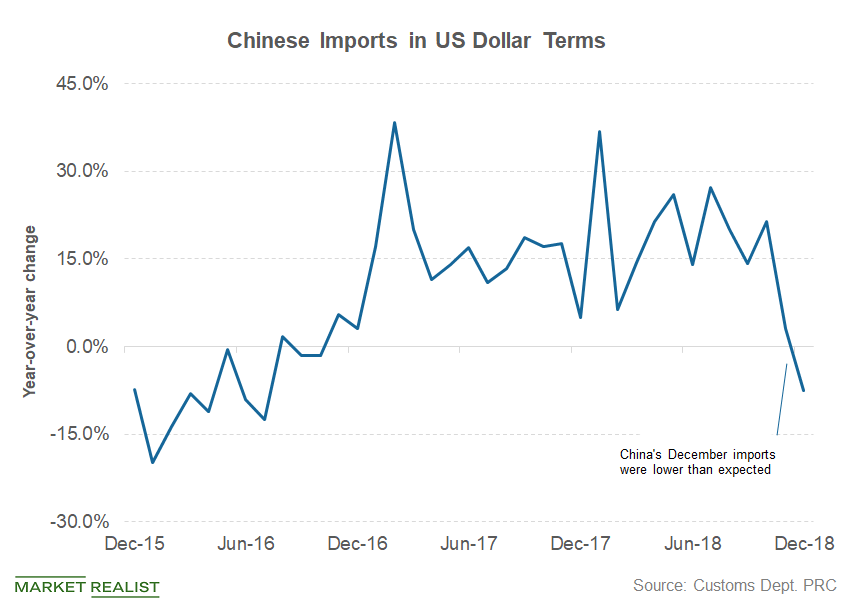 Analyzing Trump's Seven-Point Wish List for Xi Jinping
By Mohit Oberoi, CFA

Feb. 1 2019, Updated 11:45 a.m. ET
President Trump
As we discussed previously, the US and China concluded another round of talks on January 31. After the talks, the two sides released their statements. Looking at the statement from the US, the country has a long list of demands for China. President Trump tweeted that "No final deal will be made until my friend President Xi, and I, meet in the near future to discuss and agree on some of the long standing and more difficult points."
Article continues below advertisement
Seven-point agenda
The US statement said that the trade talks mainly covered seven points. The points include forced technology transfers, intellectual property rights, the tariff and non-tariff barriers faced by US companies doing business in China, China's cyber warfare, massive state subsidies, industrial overcapacity, "market barriers and tariffs that limit United States sales of manufactured goods, services, and agriculture to China," and currency manipulation. During his campaign, President Trump had mooted the idea of naming China (BABA) (BIDU) as a currency manipulator. Since then, President Trump had backed away from the idea.
Long list
The US has a long list of demands for China (TCEHY). US companies (MSFT) (IBM) would likely hope for an early settlement to the trade war. Apple (AAPL), Amazon (WMT), Walmart (WMT), Alphabet (GOOG), and Facebook (FB) opposed the tariffs on China. NVIDIA (NVDA) and Caterpillar (CAT) are among the companies that have warned that China's slowdown is hurting them.
Would resolving the trade war improve the prospects for US companies (QQQ) doing business in China?