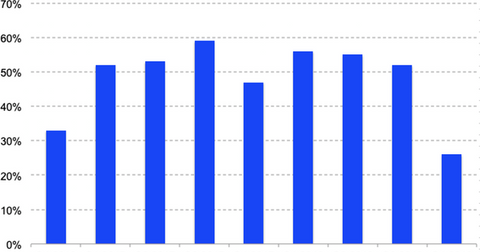 Amazon's Prime Member Base Seems to Have Slowed in Q4
By Sanmit Amin

Updated
Amazon's subscription revenue rose 26% in the fourth quarter
Amazon (AMZN) said last April (the first time it had ever disclosed the figure) that it had over 100 million Prime members globally. The company also increased its Prime membership rate in the United States from $99 to $119 annually.
However, that hike in its most important market might be hurting its growth. Amazon's revenue from subscription services, which includes its Prime subscription revenue, came in at $3.96 billion in the fourth quarter.
Excluding the effects of foreign exchange movements, Amazon recorded growth of 26% YoY. However, this represents a slowdown, as the segment has been consistently growing at over 50% on a YoY basis for the last several quarters.
Article continues below advertisement
Amazon's slowing subscription revenue suggests slowing Prime growth
Since revealing the Prime membership figure in April, the company hasn't disclosed the number again. However, the slowdown in subscription revenue does suggest that that Prime subscriber growth has slowed.
Amazon Prime members spend a lot more on its e-commerce platform than its regular customers do, so if its subscriber base grows, not only will its subscription revenue accelerate, but its core business will also see the positive effects.
Amazon has been ramping up the services it offers in its Prime subscription. The company has been investing significantly in increasing its content library. Amazon Studios has received several Golden Globe nominations this year.