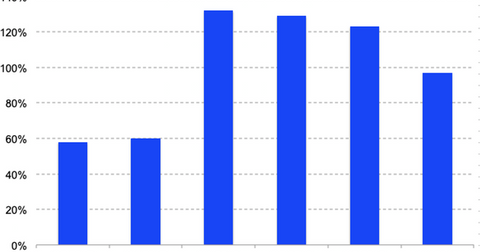 Amazon Could Continue to Erode the Google-Facebook Duopoly
By Sanmit Amin

Updated
The US digital ad business continues to grow robustly
The digital ad business has grown tremendously over the years, disrupting the traditional ad space. Google's (GOOG) and Facebook's (FB) growth has continued despite their girth.
During last year's fourth quarter, Alphabet's revenue grew 21.6% YoY (year-over-year) to $39.28 billion, while Facebook's grew 33% YoY to $13.78 billion. Most of Alphabet's and Facebook's revenue comes from ads.
Meanwhile, Amazon (AMZN), which is now third in the US digital ad market, saw its digital ad revenue nearly double YoY. The company's "other" segment, which mainly comprises ad revenue, grew 95% YoY to $3.39 billion.
Article continues below advertisement
Google's and Facebook's market share could shrink
This year, eMarketer expects total US digital ad spending to grow 19% YoY to $129.34 billion, comprising ~54.2% of total US ad spending. The research company expects mobile to represent over two-thirds ($87.06 billion) of digital ad spending.
The outstanding growth of Amazon's ad business could impact the Google-Facebook duopoly this year, and eMarketer expects it could shrink for the first time. Google's market share is expected to shrink YoY to 37.2% from 38.2%, while Facebook's is expected to expand YoY to 22.1% from 21.8%. Meanwhile, Amazon's market share is forecast to expand YoY to 8.8% from 6.8%.