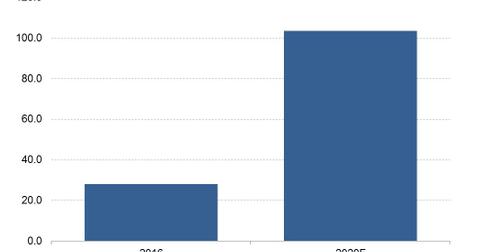 Alibaba Made Significant Leadership Changes in Cloud Business
By Neha Gupta

Updated
Alibaba wants cloud unit to leverage group innovations
Alibaba (BABA) made significant leadership changes in its cloud computing arm. The company appointed its group CTO (chief technology officer) Jeff Zhang as president of the cloud business, which goes by the name Alibaba Cloud. The changes were disclosed late last year, and Alibaba CEO Daniel Zhang recently shared more details about what informed the decision.
According to Alibaba, placing the cloud business under the leadership of the group technology chief is intended to allow the cloud division to leverage technology innovations across the entire group. At the same time, Alibaba is of the view that the new cloud leadership structure will make it easier to get some of the proprietary technology used internally to cloud customers quickly, which could in turn help Alibaba give its cloud service a distinction in the market.
Article continues below advertisement
A leading global cloud company
Alibaba is the top cloud company in China and one of the five largest cloud companies in the world, according to a report from Synergy Research. Alibaba held around a 5.0% share of the global cloud market at the end of 2018. Amazon (AMZN) leads with around a 35% market share, followed by Microsoft (MSFT) with around a 15% market share. Google (GOOGL) and IBM (IBM) closed the year with around a 7.0% market share each.
Over $100 billion revenue opportunity
In China, Alibaba is chasing a more than a $100 billion revenue opportunity in the cloud market. China's cloud market was worth around $28 billion in 2016 and is forecast to grow to $103.6 billion by 2020, according to a Forward Intelligence estimate cited by Xinhua.