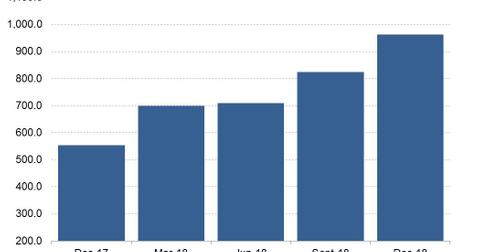 Alibaba Cloud: New Growth Driver Revealed
By Neha Gupta

Updated
Cloud revenue grows to $962 million
In much of last year, the growth in Alibaba's (BABA) cloud business was mostly driven by an increase in the number of paying customers and the uptake of more expensive services. But in the final quarter of the year, the company revealed another growth driver: existing customers spending more on Alibaba cloud services.
Alibaba's cloud revenue rose 86% YoY to $962 million in the December quarter. The growth was primarily driven by increased spending by enterprise customers, which points to strong customer loyalty in Alibaba's cloud business.
Article continues below advertisement
Fastest-growing major cloud company
The 86% increase in cloud revenue in the December quarter helped Alibaba maintain its standing as the fastest-growing major cloud company among those that disclose their growth rate. Microsoft's (MSFT) core cloud revenue jumped 76% YoY in the December quarter, and Amazon (AMZN) reported a 45% YoY increase in cloud revenue in that period. Cloud revenue declined 3.0% YoY for IBM (IBM) in the December quarter. Google (GOOGL) doesn't disclose the growth rate of its cloud business, but revenue increased 30% YoY in the unit that houses the cloud business.
Alibaba is expanding its cloud capacity
There is a $206.2 billion revenue opportunity in the global public cloud market this year, according to Gartner estimates. Alibaba has been expanding its cloud capacity to better position itself in the race for the cloud market. Last year it opened two cloud data center zones in Europe, increasing its cloud zones on the continent to three. In January, Alibaba announced the opening of a second data center in Japan to expand its cloud capacity in the country.