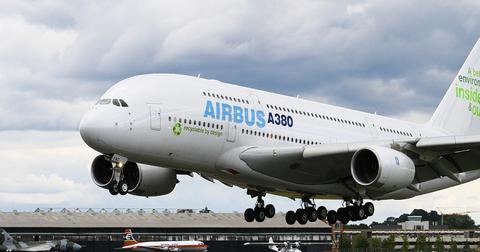 Airbus to Scrap A380 Production as Customers Cut Back Orders
By Anirudha Bhagat

Updated
Airbus to scrap A380 production
European aviation giant Airbus has decided to stop manufacturing the double-decker A380 aircraft in 2021, as it has struggled to book more orders for the world's biggest passenger jet. On Thursday morning, the plane manufacturer said that it has no substantial backlog for the model and therefore it doesn't make sense to continue production.
The company's decision came after Emirates, its biggest customer for the A380 plane, cut back orders for the iconic superjumbo. Airbus said it reached an agreement with Emirates that the latter has pared down A380 orders to 14 from 53 that will be delivered between 2019 and 2021.
Article continues below advertisement
The revised agreement brings down Emirates' total order book for A380 to 123 units from the original deal of 162 jets. However, the Dubai-based air carrier has agreed to buy 70 smaller planes from Airbus worth $21.4 billion. Of the total new orders, 40 will be for the A330-900 model and 30 for the A350-900 model.
Waning demand for superjumbo jets
The A380 was Airbus's most ambitious jet and was manufactured to challenge Boeing's (BA) iconic 747 aircraft. The two models are double-decker and can accommodate over 500 passengers. However, these planes come at a hefty price and are costly to operate, as they consume more fuel.
Therefore, air carriers have always been cautious about investing in these costly planes. Instead, they now prefer the new generation jets that are smaller, more nimble, and fuel-efficient. Like Airbus A380, Boeing's 747 aircraft are also struggling to survive.
Boeing recently celebrated the 50th anniversary of its legendary 747. Once called the "Queen of the Skies," it has been almost completely wiped out from the current fleets of major airlines (IYT). Therefore, the company has now turned this model into a cargo plane to capitalize on opportunities arising from the rapidly growing demand for online deliveries.
Thus, the shutdown of Airbus's A380 planes may prove to be a boon for Boeing, as the company will become the sole manufacturer of jumbo jets in the world. For the last two years, the world's largest online retailer, Amazon (AMZN), has been aggressively adding cargo aircraft to help the company deliver orders quickly and cost-effectively. Major courier companies like FedEx (FDX) and United Parcel Service (UPS) are also increasing their cargo fleets to stay competitive and accommodate rising online deliveries.