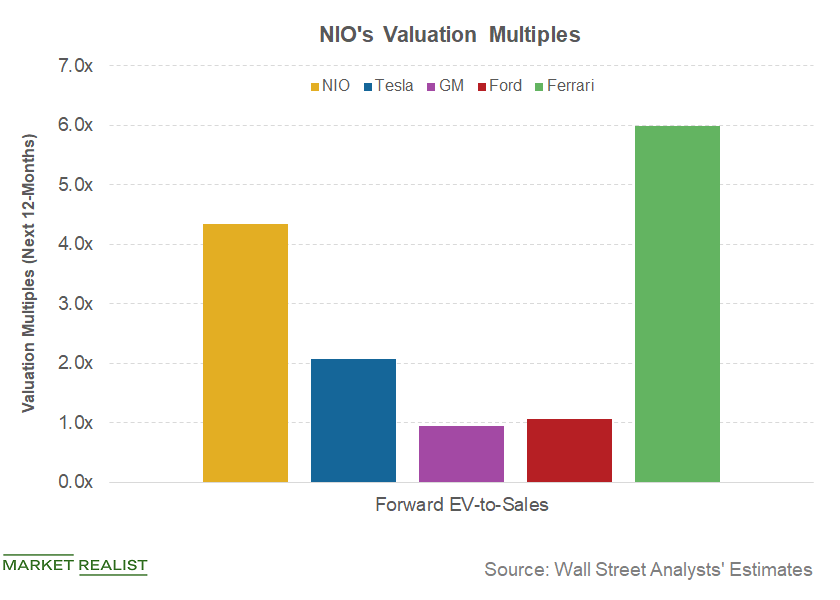 A Look at NIO's Valuation Multiples ahead of Its Q4 Results
NIO's price-to-book value
On February 21, 2019, NIO's (NIO) forward PBV (price-to-book value) ratio was 35.2x based on its estimated book value for the next 12 months. At the same time, Tesla's (TSLA) forward PBV ratio was much lower at 6.9x.
Other Chinese companies Alibaba (BABA), Baidu (BIDU), Tencent Holdings (TCEHY), and Uxin (UXIN) had forward PBV ratios of 6.2x, 2.2x, 8.2x, and 2.5x, respectively.
Article continues below advertisement
EV-to-sales multiples
NIO's forward EV-to-sales (enterprise value-to-sales) multiple was 4.3x, higher than Tesla's 2.1x, General Motors' (GM) 0.9x, Ford Motor Company's (F) 1.1x, and Toyota Motor's (TM) 1.3x.
It's important to note that NIO shouldn't be valued using the same metrics as the majority of auto companies due to differences in their business models and sizes.
Italian luxury carmaker Ferrari (RACE) has much higher valuation multiples than other mainstream automakers. On February 21, Ferrari's forward EV-to-sales multiple was 11.7x. Ferrari's profitable business model and relatively low risk profile compared to other auto giants could be one of the reasons for its much higher valuation. Luxury cars tend to have much higher profit margins for auto companies than mass-market vehicles.
What could affect NIO's valuation?
Unlike many other automakers, NIO is just a five-year-old company, which is why its valuation may remain sensitive to growth factors rather than risk factors right now.
Consistent revenue, vehicle production, deliveries in growth, and strong demand for its vehicles could boost NIO's future earnings estimates and drive its valuation multiples upward.
In the next and final article, we'll take a look at some key technical levels in NIO stock leading up to its fourth-quarter earnings event.