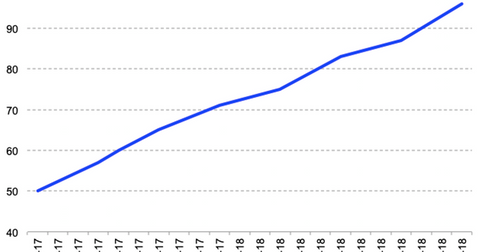 A Brief Synopsis of Spotify's Earnings
By Sanmit Amin

Updated
Spotify's subscriber base and revenue continue to grow robustly
Music streaming giant Spotify (SPOT), which announced its fourth-quarter results yesterday, has continued to see robust user base and revenue growth. It posted its first positive net income in the quarter.
Although the Swedish company revenue grew robustly in the fourth quarter, by 30.1% YoY (year-over-year) to 1.495 billion euros, or ~$1.7 billion, the company expects growth to slow this year. It just missed Wall Street's estimate of $1.71 billion. The company's monthly active user count grew 29.4% YoY to 207 million, while its premium subscriber base, its biggest revenue source, grew 35.2% YoY to 96 million. Spotify's subscriber growth remains strong despite competition from the likes of Apple Music, Amazon Music, and Google. However, the company missed its own guidance of 98 million users.
Article continues below advertisement
Spotify's gross margins are improving
Spotify reported an operating profit of 94 million euros (or $106.6 million) and a net profit 442 million euros (or $501.5 million) in the fourth quarter, but expects to post an operating loss of 200 million–260 million euros this year.
A key metric to follow in Spotify's earnings report is its gross margin. Given the size of the music labels Spotify acquires licenses from, the music streaming company does not have much bargaining power, meaning Spotify's margins are pressured.
However, Spotify's gross margin has been steadily increasing over the last few quarters, expanding to 26.7% in the fourth quarter from 24.5% in 2017's fourth quarter and 25.3% in 2018's third quarter.
Excluding some one-time benefits, Spotify reported that its gross margin would have been 25.8%, which still represents an improvement. The company expects its gross margin to be 22%–25% this year.