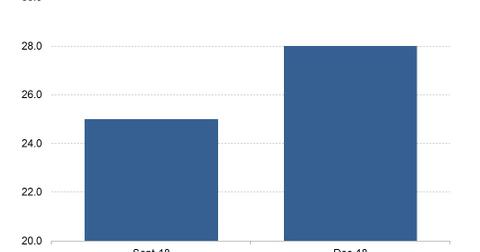 How Much Is Left in Alibaba's Repurchase Program?
By Neha Gupta

Updated
Company could repurchase 25 million shares
Last year, Alibaba (BABA) started buying back its own shares under a $6.0 billion share repurchase program that it said would run for the next two years. The repurchases began in September, and by the end of January this year, the company had repurchased about 11 million shares at a cost of $1.6 billion. That shows about $4.4 billion remains under Alibaba's existing repurchase authorization.
With this amount, Alibaba could repurchase more than 25 million shares, or around 1.0% of its outstanding shares, at the end of 2018, assuming that it buys back the shares at $170 apiece. Alibaba stock is currently trading in the $167 range. Alibaba exited 2018 with $28 billion in cash stockpile, suggesting the company could easily finance its repurchase program.
Article continues below advertisement
Chinese Internet companies are repurchasing shares
Baidu (BIDU), Tencent (TCEHY), and JD.com (JD) are other Chinese mainstream Internet companies underway with share repurchase programs. Baidu last June announced a plan to repurchase shares worth up to $1.0 billion over a period of 12 months. JD in December unveiled a plan to repurchase shares worth up to $1.0 billion over the next 12 months. For Tencent, the company has board approval to repurchase up to 10% of its outstanding shares.
eBay (EBAY) bought back $1.5 billion worth of shares in the December quarter, leaving it with $3.2 billion under a previous repurchase authorization. The company recently announced a $4.0 billion boost to its share repurchase program.