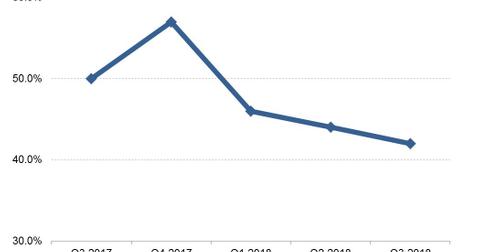 Zuckerberg Paused His Share Sales in the Holiday Quarter
By Neha Gupta

Jan. 15 2019, Updated 7:30 a.m. ET
Selling shares to fund philanthropy
According to Bloomberg, Facebook (FB) CEO Mark Zuckerberg held tightly to his stake in the company in the holiday quarter, which ended in December. The quarter marked the first period in over two years in which Zuckerberg didn't sell his Facebook shares.
Zuckerberg has been selling his Facebook shares to fund his philanthropic programs. Since September 2017, Zuckerberg has sold more than 30 million Facebook shares worth ~$5.6 billion, according to the report. Of note is that Zuckerberg paused his Facebook share sales during a rough time for the company. Facebook stock plunged 25% in 2018, with much of this loss occurring in the final months of the year.
Article continues below advertisement
Top-performing FAANG stocks
Jeff Bezos, Amazon's (AMZN) founder and CEO, has also been selling his shares in the company to raise funds for other projects, according to Reuters. The stocks of Amazon and Netflix (NFLX) rose 28% and 40%, respectively, in 2018, making them the best-performing stocks in the so-called FAAG group, the list of blue-chip Internet companies made up of Facebook, Amazon, Apple (AAPL), Netflix, and Google's parent, Alphabet (GOOGL). Apple stock fell 7.0% in 2018, while Alphabet stock was mostly steady, falling only 1.0%.
Cleaning up the platform
Facebook shares tumbled in 2018 as the company battled myriad challenges related to data privacy and fake news. The company has vowed to clean up its platform to avoid controversies, even saying that it's willing to forgo short-term profits to invest in building trust in its products and services. Facebook's operating profit margin narrowed to 42% in the third quarter of 2018 from 50% in the same period a year earlier.