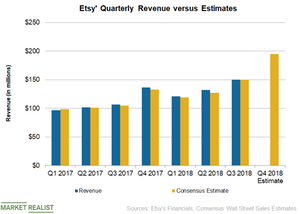 Will Etsy's Strategic Efforts Keep Driving Its Top Line in 2019?
Future expectations
Etsy (ETSY) is a fast-growing online retailer with strength in the vintage and craft goods category.
For the fourth quarter of 2018, Wall Street analysts expect Etsy's revenue to rise 43.1% year-over-year to $194.9 million. Etsy hasn't given an outlook for the fourth quarter's revenue. For fiscal 2018, analysts forecast Etsy reporting revenue growth of 35.7% to $598.7 million. It's expected to maintain a double-digit annual growth rate in 2019 with analysts projecting revenue up 29.8% to $777.1 million.
Article continues below advertisement
Higher seller fees are likely to cushion the top line. It hiked its seller transaction fee to 5.0% from 3.5% in 2018. Etsy management raised its revenue guidance for 2018 since the fee hikes. It's now looking to ramp up investments in marketing and product innovation, which would drive the top line. Management has projected revenue growth of 35%–36% versus the previous guidance of 33%–35%.
Etsy has also launched a monthly subscription package for sellers called Etsy Plus for $10 per month. It also plans to introduce Etsy Premium in 2019. We're awaiting the details for Etsy Premium.
Other growth factors
CEO Josh Silverman had undertaken extensive measures to drive Etsy's performance. He had outlined four strategies to drive growth, which included accelerating marketing investments, providing newer tools and services to both buyers and sellers, and enhancing trust and reliability on the platform.
Under these outlined strategies, the company has been investing in TV campaigns. Etsy is also bettering its shipping policies. The company is mulling over expanding free shipping to more products. Free shipping attracts shoppers and boosts conversion rates.
Etsy is deploying machine learning and AI technology along with human curation to make the search process simpler. It's adding buyer locations to its algorithm, which helps categorize and rank search results. Adding buyer locations should make the search process much clearer, as tastes and preferences differ considerably from region to region.
The company is also expanding internationally. It had inked a referral agreement with Germany-based online retailer DaWanda. On the third-quarter conference call, Etsy stated that Germany had become its second-biggest overseas market by domestic activity due to referral traffic from DaWanda.