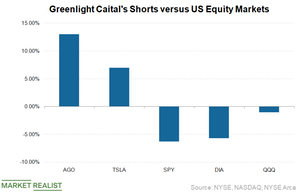 Will David Einhorn's Tesla Short Go His Way in 2019?
By Anuradha Garg

Jan. 28 2019, Updated 7:31 a.m. ET
David Einhorn is Tesla bear
David Einhorn has been a prominent Tesla (TSLA) bear for a while. In November 2018, he mentioned that Tesla has peaked in the last quarter and called it "as good as it gets" for the company, as he expects the sales of its expensive Model 3 sedans to wane going forward. He is expecting a huge revenue and earnings disappointment from Tesla in the fourth quarter.
Article continues below advertisement
David Einhorn on Tesla
As reported by CNBC, in his latest letter to shareholders, Einhorn said Tesla is in a "bizarre situation." Tesla CEO Elon Musk ran into trouble with the SEC due to his "taking Tesla private" tweet in August. Musk eventually reached a $20 million settlement with the SEC. He also had to step down as Tesla's chair for at least three years. Since he was allowed to remain as Tesla's CEO, as reported by CNBC, Einhorn said in his letter, "if you are as important as Elon Musk, removal is not a serious option. He is above the law."
Einhorn, who is well known for his short call on Lehman Brothers in 2007, has also compared Tesla to Lehman Brothers, saying that TSLA's business model is another Lehman in the waiting.
Short bets and outlook for 2019
Einhorn's short bet on Tesla doesn't seem to have gone his way at least in 2018, as the stock has outperformed markets (SPY) (DIA) with returns of ~7%. We'll just have to wait and see whether Einhorn's short bet on Tesla goes his way or not going forward in 2019.
Apart from Tesla, bond insurer Assured Guaranty (AGO) is another prominent short position for Greenlight Capital (GLRE). During the Sohn Investment Conference in April 2018, he mentioned that AGO's "pretax income looks likely to collapse." AGO's stock price appreciated by 13% in 2018.