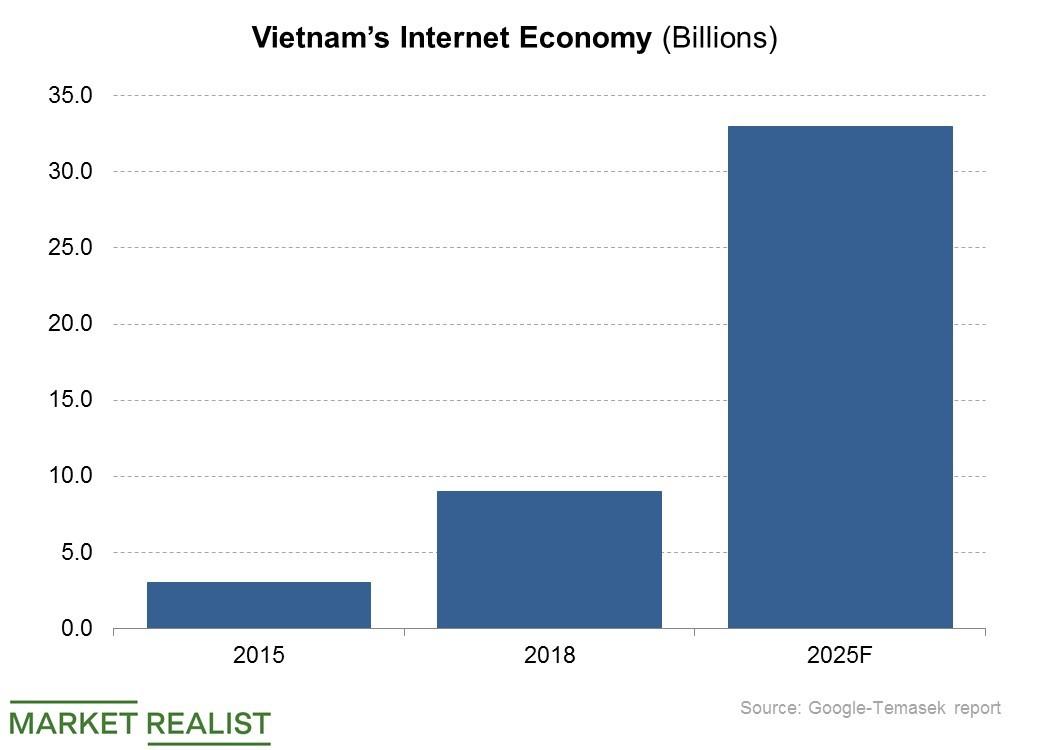 Why the Vietnamese Market Is Important for Facebook
By Neha Gupta

Jan. 11 2019, Updated 1:50 p.m. ET
One of the fastest-growing markets
As much as the Vietnamese market presents challenges for Facebook (FB), it also presents an attractive growth opportunity. As the Wall Street Journal reported, some 60 million people in Vietnam—or more than 60% of the country's population—use Facebook's social network. Vietnam is also said to be one of Facebook's fastest-growing markets.
Vietnam is in Southeast Asia, a region in which the Internet economy is booming. According to a new research report by Google and Temasek Holdings, the Southeast Asian Internet economy will grow to $240 billion by 2025, up from $72 billion in 2018. In Vietnam alone, the Internet economy is on track to hit $33 billion by 2025, up from $9.0 billion in 2018.
Article continues below advertisement
e-Commerce opportunity in Vietnam
People in Vietnam use Facebook not only to connect with family and friends but also to sell items, exposing Facebook to the fast-growing e-commerce market in the country. The e-commerce market in Vietnam was valued at $0.4 billion in 2015 and is poised to grow to $15 billion by 2025.
Monetizing the marketplace
Facebook created a marketplace within its social network, allowing individuals and businesses to buy and sell items directly within its platform. It monetizes the marketplace through advertising, but there are other monetization options it could pursue. For example, e-commerce companies such as Amazon (AMZN) charge merchants a commission to be able to sell on their marketplaces. In addition, these e-commerce companies make loans to their marketplace sellers from which they earn interest revenue.
Last year, eBay (EBAY) tapped Square (SQ) to extend small business loans to its sellers. PayPal (PYPL), which also runs a merchant lending business, is Facebook's marketplace payment partner.