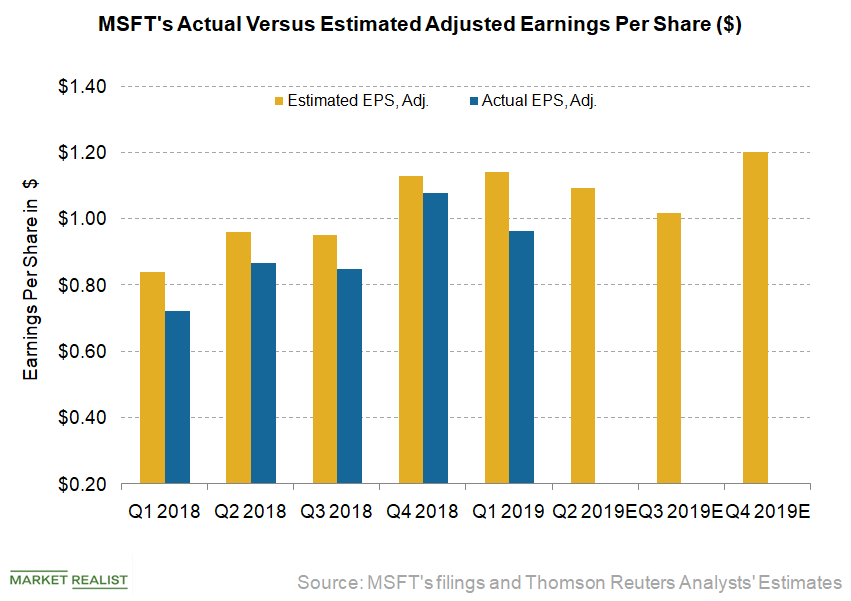 Why Microsoft Is Eyeing the Collaboration Market
By Samuel Prince

Jan. 31 2019, Updated 7:30 a.m. ET
Enterprise collaboration space
Earlier in the series, we discussed the market expectations from Microsoft's (MSFT) soon-to-be-announced second-quarter earnings. Apart from the cloud space, enterprise collaboration is another segment that holds Microsoft's interest. Increased adoption of cloud has fueled the continuous adoption of enterprise collaboration offerings by end user, and this trend is likely to continue. Enterprise collaboration tools facilitate collaboration between different segments/units of the business from file sharing to storage to reporting.
Article continues below advertisement
Microsoft is leveraging this trend, and to increase its lure and appeal to organizations that prefer the siloed approach, it is integrating its collaboration apps (applications) into its productivity suites. Enterprises that follow the siloed approach prefer not to share information among their groups or departments. Google (GOOG) has adopted this approach.
Collaboration market to grow 9% this year
According to a recent report by Synergy Research, the global collaboration market is expected to grow 9% this year to reach $45 billion. Revenues from hosted/cloud offerings accounted for 64% of this market, and on-premise products contributed the remaining 36%. The research firm stated that this trend is vastly different from 12 quarters ago when the market was evenly divided between the two. In this whole market, the TeamWork Apps market is expected to grow 60% and thus could witness the highest growth in 2019.
CPaaS (communications platform as a service) and VaaS (video as a service) will follow wherein each segment is expected to grow by 30%. Both CPaaS and VaaS are cloud-based offerings. While CPaaS enables developers to integrate real-time communications features into apps, VaaS enables delivery of video conferencing services over a network.
The iShares U.S. Technology ETF (IYW) invests 15.67% of its holding in Microsoft stock. Other major technology companies included in IYW's holdings are Apple (AAPL) at 13.83%, Facebook (FB) at 6.81%, and Alphabet (GOOG) at 6.39%.