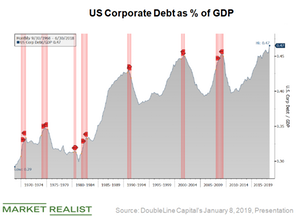 Why Gundlach Expects a Wave of Corporate Downgrades to Come
By Anuradha Garg

Jan. 11 2019, Updated 7:30 a.m. ET
Gundlach on US federal debt
As reported by Reuters, Jeffrey Gundlach called the ballooning US (SPY) (VOO) federal government debt "a completely horrific situation." In 2018, total US debt increased by $1.4 trillion, far more than the ~$900 billion budget deficit. Gundlach also said that the United States could be at a "tipping point" in a "debt-compounding cycle."
He asked, "Are we growing at all or is it all just the increase in debt?"
Article continues below advertisement
Ballooning interest costs
Moreover, Gundlach cited data provided by the CBO (Congressional Budget Office), which reflect rising interest costs for the US government. The CBO expects debt to reach 3.7% of GDP by 2035 from ~1.4% in 2015.
Corporate leverage is also bad
Gundlach is also focused on corporate leverage and said that there is a significant risk of downgrades in the BBB space as leverage has risen to near record highs.
Gundlach used a historical leverage ratio analysis to highlight how large a portion of BBB rated bonds (BND) would be junk (JNK) right now. As reported by Yahoo finance, Gundlach said, "Actually, 45% of the entire investment grade bond market would be rated junk right now … based on leverage ratios. Forty-five percent."
Gundlach has also stated that while downgrades have started to happen, even more should have happened already. He thus expects a wave of downgrades to come.