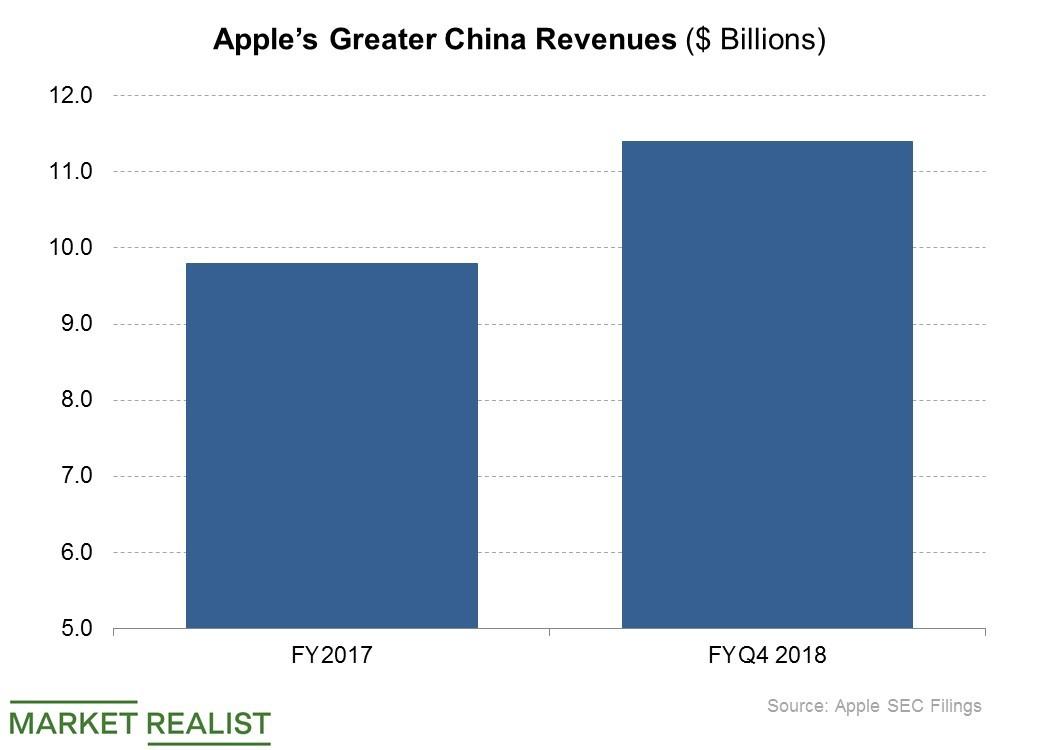 Why China Could Pose a Challenge for Apple
China's economic deceleration
Apple (AAPL) has singled out China as a problem market and a major reason behind the company's lowered revenue guidance for fiscal 2019's first quarter. According to Apple, China's economy started to slow in the second half of last year and was worsened by the country's rising trade tensions with the United States. As a result, consumer spending has declined, affecting demand for Apple products in China.
Article continues below advertisement
Shrinking smartphone market share
Apple has struggled in the Chinese smartphone market in recent years. Its share of the market has declined, falling to 9.0% in last year's third quarter from 15% in the fourth quarter of 2017, according to Counterpoint. However, Apple is not alone—Samsung's (SSNLF) share of the Chinese smartphone market has also diminished, falling to 1.0% last year. The rise of homegrown companies such as Huawei and Xiaomi is presenting tough competition for foreign companies Apple and Samsung.
China accounted for 18% of Apple's revenue
Apple's dispute with Qualcomm (QCOM) could also be complicating things for Apple in China. In December, a Chinese court banned the sale of certain iPhone models in the country because they were found to infringe on Qualcomm patents.
Greater China, consisting of the mainland, Hong Kong, and Taiwan, accounted for 18% of Apple's revenue in the September quarter. International operations generally account for the vast majority of Apple's revenue: businesses outside the Americas accounted for 56% of its revenue in the September quarter. Meanwhile, 54% and 51% of Alphabet's (GOOGL) and Facebook's (FB) revenue was international.