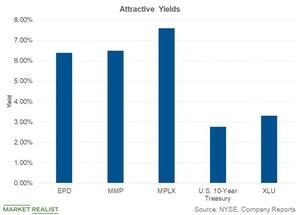 Why Are EPD, MMP, and MPLX's Yields Attractive?
By Rekha Khandelwal, CFA

Jan. 30 2019, Published 11:22 a.m. ET
Yields
Enterprise Products Partners (EPD), Magellan Midstream Partners (MMP), and MPLX (MPLX) are trading at attractive yields of 6.4%, 6.5%, and 7.6%, respectively. Enterprise Products Partners and Magellan Midstream Partners' yields are ~360 basis points higher than the US ten-year Treasury yield. MPLX's yield is ~480 basis point higher than the ten-year Treasury yield. What makes this spread attractive is the relatively low risks that these stocks offer.
Article continues below advertisement
Distribution track record
Enterprise Products Partners has increased its distributions for 58 consecutive quarters. The company has increased its yearly distributions for 20 consecutive years. Enterprise Products Partners has an impressive record considering that many MLPs have cut distributions over the last four or five years.
Magellan Midstream Partners has announced 67 distribution increases since its initial public offering in 2001. Like Enterprise Products, Magellan Midstream Partners doesn't have any distribution cuts.
MPLX, the midstream MLP of Marathon Petroleum (MPC), has raised its quarterly distribution for 23 consecutive quarters.
Distribution coverage
Enterprise Products Partners had a coverage ratio of 1.7x in the third quarter. The company is scheduled to report its fourth-quarter results on January 31. Magellan Midstream Partners expects a coverage ratio of ~1.2x for 2018. The company's coverage ratio has never fallen below 1.1x in the last ten years. MPLX's coverage ratio for the third quarter was 1.47x.
All three of the companies have conservative adjusted net debt-to-EBITDA ratios of ~4x or lower.
Expected distribution growth
Magellan Midstream Partners expects its distribution growth to be in line with the expected distributable cash flow growth of 5%–8% per year for 2019 and 2020. The company targets 1.2x coverage for the two years.
Enterprise Products Partners raised its distributions for 2018 by ~2.5%. The company lowered its distribution growth rate in the third quarter of 2017. Enterprise Products Partners is expected to provide the expectations for its 2019 distributions during the fourth-quarter earnings call. MPLX expects distribution growth of ~6% in 2019.