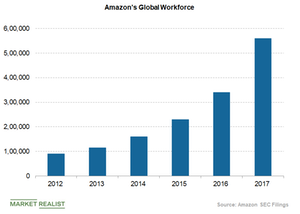 Why Amazon Is Facing Troubles in New York City
By Sophia Nicholson

Jan. 8 2019, Published 2:37 p.m. ET
Amazon's new headquarters
Amazon (AMZN) has been planning to open a new office outside Seattle, where it has been based since 1994. Amazon has chosen Long Island City in New York City and Crystal City in Northern Virginia for its new headquarters. However, recently, Lisa Herbold and Teresa Mosqueda, two members of the Seattle City Council, are criticizing the online e-commerce behemoth Amazon. Seattle City Council members are also warning New York City officials about the new headquarters in the city.
Article continues below advertisement
Criticism of Amazon's headquarters
Amazon is reportedly facing criticism for its new headquarters. New York is offering a tax break of more than $2 billion, which Seattle council members consider too high. The Seattle members told New York officials on Monday that the residents of Seattle are witnessing increased home prices, income inequality, and a rising poverty rate, as the city has attracted a huge population driven by Amazon's growth trajectory. Therefore, the members are warning New York officials to protect residents from higher housing and transportation expenses after Amazon arrives in the city.
Herbold and Mosqueda, along with a group of officials, also tried to put Employee Hours Tax, also known as "head tax," on big companies to support employees. However, it was opposed by big corporations including Starbucks (SBUX).
Amazon's minimum wage hike
Amazon said that the company had announced the hike in minimum wages to $15 for more than 250,000 full-time full benefit jobs across the US. The company has a global workforce of 566,000 employees at the end of 2017 and added around 47,000 in the first nine months of 2018.
Like Amazon, rival retail companies such as Target (TGT) have announced they would raise the minimum wage recently. Target has plans to raise minimum hourly wages to $12 from $11 later this spring and has plans to increase wages to $15 by 2020. Walmart (WMT) raised its minimum wage to $11 per hour in early-January.