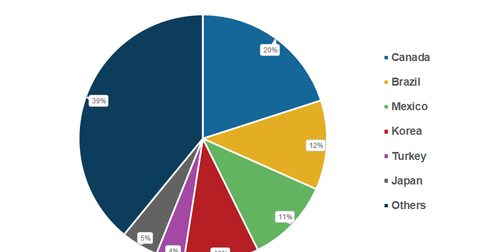 White House and Wall Street: A Stormy Relationship in 2019?
By Mohit Oberoi, CFA

Updated
White House
In this series, we discussed the key themes that could impact markets in 2019. Wall Street and the White House had a stormy relationship in 2018. President Trump targeted companies like Amazon (AMZN) on Twitter. Several US companies including Apple (AAPL), Facebook (FB), and Walmart (WMT) lobbied against President Trump's trade war.
Article continues below advertisement
Trade deals
As we noted in this series, 2019 could see the Trump Administration move forward on new trade deals. In 2018, the US (QQQ) renegotiated NAFTA and the United States Korea Free Trade Agreement. Along with President Trump's trade rhetoric, the frequent churn in the Trump Administration hasn't gone too well with markets. Markets generally prefer a stable and cohesive administration. Reportedly, President Trump was thinking about firing Fed Chair Jerome Powell. However, Treasury Secretary Steven Mnuchin denied the reports.
Politics
We could see politics take center stage as the race for the 2020 presidential election heats up in 2019. A Democrat-controlled House could be another challenge for President Trump. On the positive side, we could see some traction on President Trump's proposed infrastructure investments. With President Trump halfway into his presidency, it could be time to deliver on one of his key electoral pledges. Infrastructure investments could help lift the sentiments.
While most observers have painted a bleak picture for markets in 2019 due to several challenges, we should remember that it's a growth slowdown that's coming from a higher base. While a synchronized global slowdown is real, things don't look that terrible. Markets have already repriced themselves for lower growth. Read Pundits Are wrong in 2018: What about 2019? to learn more.