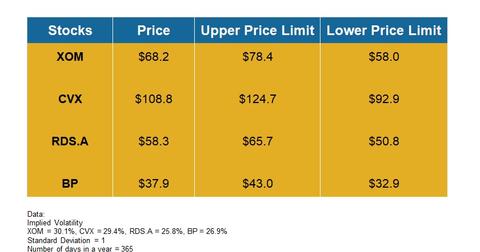 Where Will the Prices of XOM, CVX, RDS.A, and BP Be on March 31?
By Maitali Ramkumar

Updated
Implied volatilities
Integrated energy stocks' implied volatilities increased in the fourth quarter. ExxonMobil (XOM) saw the highest rise in its implied volatility compared to BP (BP), Chevron (CVX), and Royal Dutch Shell (RDS.A).
The implied volatilities of ExxonMobil and Chevron rose 14.6 percentage points and 11.2 percentage points, respectively, over October 1 to 30.1% and 29.4%, respectively, on December 31. The changes in implied volatility were lower in the other two stocks. The implied volatilities of Shell and BP rose 8.4 percentage points and 9.0 percentage points, respectively, in the same period. On December 31, the implied volatilities of Shell and BP stood at 25.8% and 26.9%, respectively.
ExxonMobil stood the highest compared to Chevron, Shell, and BP in terms of absolute implied volatility. In the stated period, ExxonMobil stock fell 20.5%, again the highest among its peers. Chevron fell 12.5%, Shell fell 15.9%, and BP fell 18.9%, respectively.
Article continues below advertisement
Forecast price range for integrated energy stocks
Considering integrated energy stocks' current implied volatilities and assuming a normal distribution of prices (using the bell curve model) and a standard deviation of one (with a probability of 68.2%), integrated energy stocks' prices could end up within their upper and lower price limits in the first quarter, which ends on March 31.
If we refer to the chart above, we can see that ExxonMobil stock could have the most significant percentage gain or loss in the first quarter. XOM could close between $78.4 and $58.0 per share. In contrast, Shell could have the smallest gain or loss and could close between $65.7 and $50.8 per share. Chevron could close between $124.7 and $92.9 per share, and BP could close between $43.0 and $32.9 per share.
In the next article, we'll review the dividend yields of these integrated energy stocks.