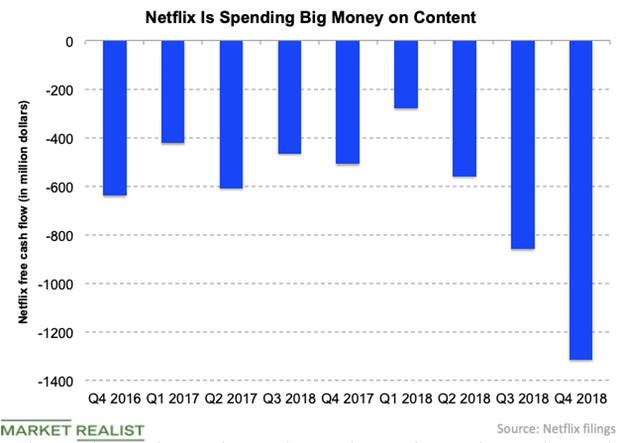 When Will Netflix's Free Cash Flow Equation Improve?
By Sanmit Amin

Jan. 23 2019, Updated 5:35 p.m. ET
Netflix's debt continues to mount
Netflix (NFLX) has spent tens of billions of dollars on boosting its content library over the last few years. The streaming giant has invariably resorted to the debt market to fund that spending.
The long-term debt on the company's balance sheet increased from $6.3 billion at the end of 2017 to $10.3 billion at the end of 2018, apart from the billions it owes in off-balance-sheet debt.
The company's free cash flow in fourth quarter 2018 was -$1.3 billion, and it was -$3 billion for the whole year. The company expects a similar free cash flow this year as well, meaning that it will continue to burn cash this year to further strengthen its already impressive content library as it faces increasing competition.
Article continues below advertisement
Netflix's investment will yield dividends in the long run
The streaming giant said it spent a whopping $12.0 billion on content in 2018 compared to $8.9 billion in 2017. However, it also said in its letter to shareholders that it expects its free cash flow to improve each year starting in 2020.
Hence, while Netflix's debt has mounted, it will probably spend less on content next year. The good news is that the company continues to attract subscribers at a healthy rate. It added 8.8 million paid subscribers during the fourth quarter.
The company also hiked its subscription rates across all its plans in the United States, and we'll see the effects of this hike on its revenue growth this year. It also has wiggle room to hike rates internationally.
In conclusion, while Netflix's finances are currently worsening to an extent, as its subscriber base grows, its bottom line should improve over the years.