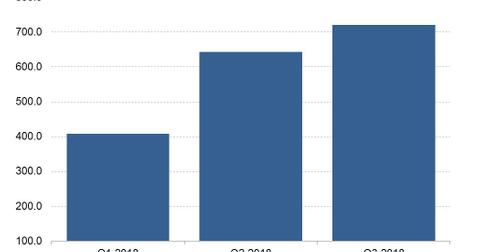 What's the Sum of eBay's Parts?
By Ruchi Gupta

Feb. 1 2019, Updated 10:31 a.m. ET
Classified business could fetch up to $12 billion
eBay (EBAY) operates three main business groups, the marketplace, StubHub, and Classifieds. Elliott Management wants eBay to spin off these businesses into standalone companies that it could then sell them separately. Elliott projects that eBay could sell its Classifieds business for between $8.0 billion and $12 billion, CNBC reported, citing a source with knowledge of Elliott's rationale. Elliott projects that the ticket-selling StubHub business could sell for between $3.5 billion and $4.5 billion.
Article continues below advertisement
Marketplace business could sell for $15 billion
If eBay decides to sell its marketplace business right away after separating it from the other operations, Elliott thinks the business could fetch about $15 billion. On the upper end, Elliott projections indicate that eBay's various parts could fetch around $32 billion when sold.
Potential buyers of eBay marketplace
Who would want to pay $15 billion for eBay's marketplace business? Elliott thinks Walmart (WMT), Google (GOOGL), or private equity firms could be interested in purchasing eBay's marketplace business.
In its fight with Amazon (AMZN) for retail dollars, Walmart has been making an aggressive e-commerce push in recent times. Two years after it paid more than $3.0 billion to purchase online retailer Jet.com, Walmart last year forked out $16 billion to take up a huge stake in Indian e-commerce company Flipkart.
eBay posted $720 million profit