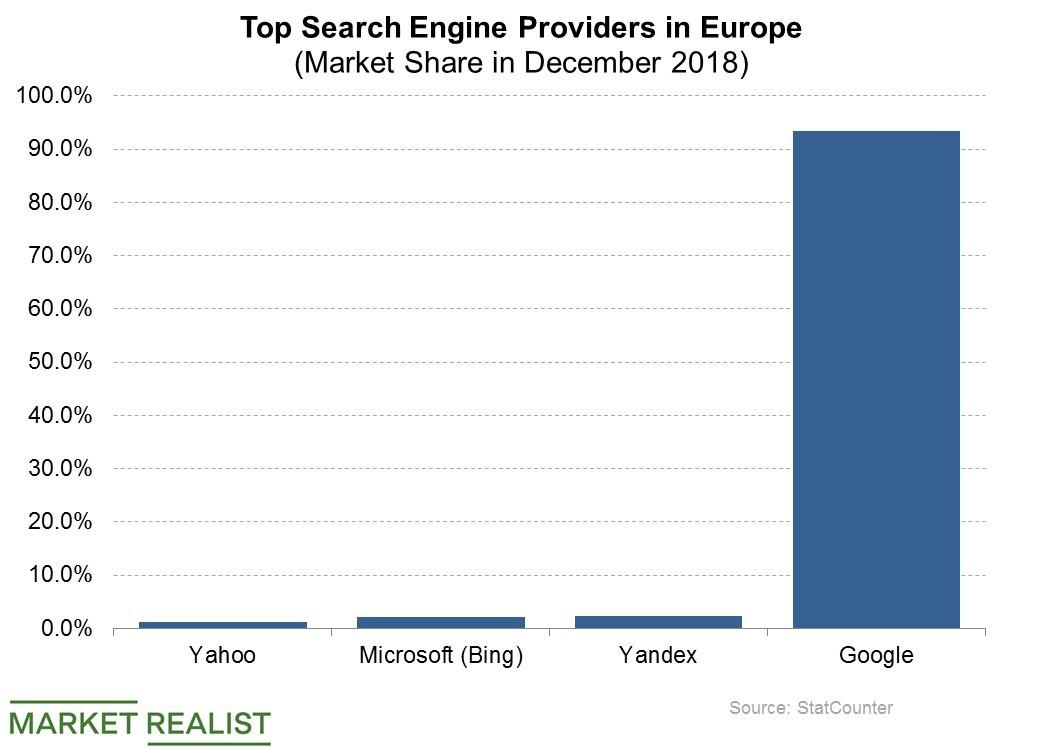 What's Next for Google in EU's 'Right to Be Forgotten' Dispute?
By Neha Gupta

Jan. 14 2019, Updated 3:10 p.m. ET
Google dominates European search market
An adviser to the European Union's top court has recommended that search engines shouldn't be forced to apply the bloc's so-called "right to be forgotten" principle globally, Reuters reported. The recommendation mostly backs Alphabet's (GOOGL) Google, which is appealing a French order requiring it to apply the "right to be forgotten" principle both in and outside the EU.
Google dominates the search engine market in Europe. It held 93.3% of the European search engine market in December 2018, beating out Yandex (YNDX) and Microsoft (MSFT) with 2.4% and 2.2% market shares, respectively, according to data from StatCounter. Google is also the top search engine worldwide with a 92.2% market share in December compared to Microsoft's 2.4% share, Verizon (VZ) Yahoo's 2.1% share, and Baidu's (BIDU) 1% share.
Article continues below advertisement
Google fined in France
The right to be forgotten principle was established in the EU in 2014 and protects people's privacy online. But it has also raised questions about the right to information, especially if search engines are required to observe the principle beyond EU borders.
France's privacy regulator slapped Google with a 100,000 euro fine in 2015 after the company failed to comply with its order to apply the right to be forgotten principle everywhere. The company appealed the order, and the matter is being heard by the European Court of Justice based in Luxembourg.
Court ruling expected in months
The next step in Google's right to be forgotten dispute is that the European Court of Justice will make a final decision on the matter in coming months, the Wall Street Journal reported. While the court is not obligated to follow the adviser's opinion, it often does. There will be no room for further appeals on the matter within the EU once the top court makes its ruling.