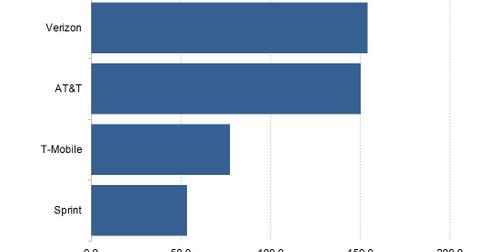 What's behind Verizon's Move on Unwanted Call Feature?
By Ruchi Gupta

Updated
Enhancing experience for customers
Starting in March, Verizon (VZ) subscribers with compatible smartphones will get free access to the company's tools for fending off unwanted calls. At the moment, Verizon customers who pay $3 a month for the company's Call Filter service have access to spam and robocalling protection features. Now Verizon is gearing up to extend those benefits to all its subscribers, a move that would allow it to enhance the experience for its customers and keep up with some of its rivals. According to a report from PCMag, AT&T (T) and T-Mobile (TMUS) already offer features that allow their subscribers to block spam and robocalls.
Article continues below advertisement
Tight competition for customers
Amid tight competition for customers, operators are trying every trick to get new subscribers and get existing ones to stick to their networks. Verizon currently boasts the largest number of wireless subscribers at 153.9 million at the end of the third quarter, according to Strategy Analytics data cited by FierceWireless. AT&T, T-Mobile, and Sprint (S) closed the third quarter with 150.2 million, 79.7 million, and 53.5 million wireless subscribers, respectively. The entry of cable companies such as Comcast (CMCSA) and Charter Communications (CHTR) into the wireless industry has also complicated competition for incumbents. Comcast launched a mobile service under Xfinity Mobile brand in 2017, and Charter launched a mobile service under Spectrum brand in 2018.
Verizon's revenue jumped 2.8%
Verizon generated $32.6 billion in revenue in the third quarter, representing an increase of 2.8% YoY. AT&T, T-Mobile, and Sprint grew their revenues by 15.3%, 7.5%, and 6.4% YoY, respectively, in the third quarter.