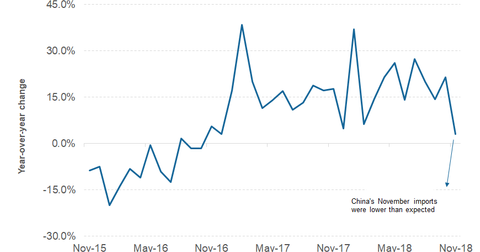 What to Expect from the US-China Trade War
By Mohit Oberoi, CFA

Jan. 10 2019, Published 4:36 p.m. ET
United States
The US and China (FXI) finished the trade talks on January 9. According to the US statement, the talks focused on structural reforms like intellectual property rights. The US statement said, "The talks also focused on China's pledge to purchase a substantial amount of agricultural, energy, manufactured goods, and other products and services from the United States." Last month, China reportedly started buying US soybeans. The purchases had been halted amid the escalating trade war.
Last year, China agreed to purchase more goods from the US (AAPL) in a bid to lower the deficit. Since President Trump wanted more concessions and specifics, the trade war truce didn't hold ground after a few days.
Article continues below advertisement
Economy
However, the current situation is slightly different compared to last year. In 2018, the US economy (QQQ) was looking remarkably strong due to the tax cut wave. However, the economic growth is expected to slow down in 2019. Also, there's the presidential election in 2020. In the United States, the opposition has been brewing against the tariffs. Some observers blamed the trade war for the market sell-off last year. With the electoral race heating up, President Trump might not want to antagonize the markets.
What to expect?
Alibaba's (BABA) Jack Ma said that the trade war could last for decades. We could see China purchase more agricultural and energy products from the US in the immediate term. There could also be some small concessions on structural issues. However, China probably won't change its behavior quickly. The trade war could be a long-term affair when it comes to structural reforms in China (BIDU).
As Commerce Secretary Wilbur Ross told CNBC, "I think there's a very good chance that we will get a reasonable settlement that China can live with, that we can live with and that addresses all of the key issues. And to me those are immediate trade. That's probably the easiest one to solve"
Next, we'll discuss whether resolving the trade war with the US could open Pandora's box for China.