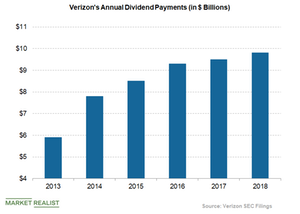 Verizon Continues to Pay Attractive Dividends
By Sophia Nicholson

Jan. 31 2019, Updated 10:30 a.m. ET
Verizon's strong cash flow position
In 2018, Verizon's (VZ) cash flow from operations totaled $34.3 billion. The company is generating strong cash flows as it sets up to launch its 5G service. Further, Verizon paid off $5.2 billion in unsecured debt and $4.7 billion in total net debt in 2018, owing to strong cash flows, tax reform benefits, the lower impact of its wireless device payment plan model, and lower discretionary pension and benefit contributions.
Article continues below advertisement
The company's total capex was $16.7 billion in the year, which it spent in support of the commercial launch of its 5G Home service. Its capex in 2018 was within its guided range of $16.6 billion–$17.0 billion. For 2019, Verizon plans to spend $17 billion–$18 billion in capex as it expands its 5G commercial launch.
Dividend payments
Verizon has been consistently paying increasing dividends for the past 12 years. Verizon paid an annual dividend of $9.8 billion to its shareholders in 2018. Its dividend payments were $9.5 billion, $9.3 billion, $8.5 billion, $7.8 billion, and $5.9 billion, respectively, in 2017, 2016, 2015, 2014, and 2013.
In September, Verizon raised its quarterly dividend for the 12th consecutive year. Verizon's board has approved a quarterly dividend of $0.6025 per share, an increase of 2.1% from the previous quarter. Its annual dividend equates to $2.41 per share, which represents a dividend yield of 4.52% as of January 29. In comparison to its peers, AT&T (T) has a dividend yield of 6.68%.