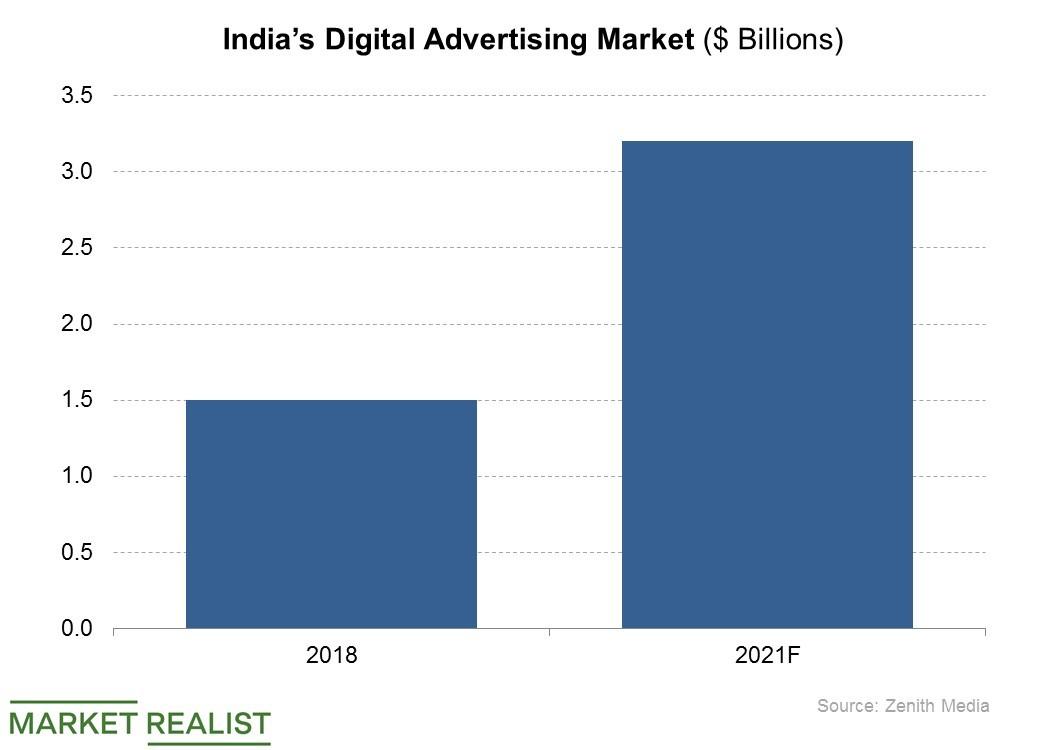 Twitter Has Its Sights Set on India
By Neha Gupta

Jan. 17 2019, Updated 10:30 a.m. ET
A booming advertising market
Twitter's (TWTR) primary business is advertising, which accounted for about 86% of its total revenue in the third quarter of 2018, the most recent reported period. According to a new report from Zenith Media cited by Reuters, the advertising industry is booming in India with the country set to become one of the top ten largest advertising markets in the world in the next few years.
By 2021, India's advertising market will be worth around $14.2 billion, up from an estimated $9.7 billion in 2018, making the country the eighth-largest advertising market globally. The digital advertising market, the specific sector Twitter is in, is forecast to grow to more than $3.2 billion in India by 2021 from an estimated $1.5 billion in 2018. An expanding middle-class population and deepening Internet penetration are fueling online shopping and online advertising in India.
Article continues below advertisement
A tight race for advertising dollars in India
Twitter is jostling for advertising revenue in India with a bevy of competitors including Facebook (FB), Google (GOOGL), Amazon (AMZN), and even Walmart (WMT). Facebook operates several digital advertising platforms in India including its namesake social network, Instagram, and Messenger. Google provides Internet search advertising as well as video advertising through its YouTube platform in India. YouTube is one of the top social media platforms in India, according to StatCounter data.
Amazon (AMZN) runs an online marketplace in India, where sellers also pay to promote their items. Walmart last year acquired Flipkart, another leading online marketplace and merchant advertising platform in India.