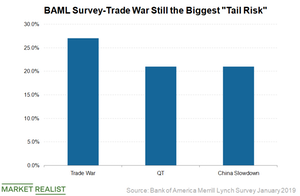 Trade War Is Still Investors Top Tail Risk for the Markets
By Anuradha Garg

Jan. 17 2019, Updated 7:31 a.m. ET
Trade war still investors' top concern
In Bank of America Merrill Lynch's January 2019 survey, trade war concerns remained the top tail risk cited by global fund managers for the eighth consecutive month. The percentage of investors citing it as the top risk, however, fell to 27% from 37% in December.
The recent round of trade talks between the United States (DIA) (VTI) and China (FXI) may have assuaged some of investors' concerns, but the trade war remains a very potent risk given how sticky of an issue it has remained for both sides.
Article continues below advertisement
Quantitative tightening
Quantitative tightening and a slowdown in China were tied as the second-largest tail risks, cited by 21% of investors each.
Investors are worried about potential policy mistakes by central banks, especially the Fed. Many market participants expect the economy to weaken in 2019. They're concerned that due to the lag between policy changes and their visible impact on the economy (SPY) (DIA), the Fed might keep tightening rates even after a slowdown has already taken over.
Fed Chair Jerome Powell has sounded dovish lately, insisting that the Fed can be more patient in raising rates. His comments have calmed the markets somewhat, but investors remain concerned, as higher-than-expected inflation or stronger economic numbers could force the Fed's hand. Read Why a Fed Policy Mistake Is Worrying Markets for more on this topic.
China's slowdown
China's slowdown remains one of the biggest sources of fear among fund managers. All the new economic data that come out of China point to a deepening slowdown. The country's import and export data for December significantly weakened year-over-year. Inflation indicators, including the consumer price index and the producer price index, also showed deceleration.
The slowdown in producer inflation indicates weak domestic demand and could lead to a further dent in corporate profits. This weakened inflation is also reflected in the fall in China's industrial profits. The data showed the first contraction in profits for industrial companies since December 2015. Chinese equity markets (BABA) (BIDU) fell almost 25% in 2018 compared to the S&P 500's fall of 6.3%.
Read China's Slowdown Could Be More Severe than Expected for more on this topic.