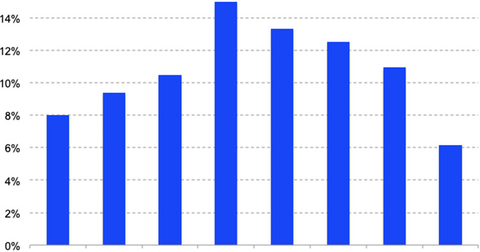 These Are the Headwinds Netflix Is Facing at Home
By Sanmit Amin

Updated
Netflix adds over 1.5 million US subscribers
Netflix (NFLX) added 1.53 million paid subscribers in the fourth quarter of 2018, bringing its US subscriber count to 58.49 million. Netflix's domestic market comprises 42% of its total paid subscribers. It's been obvious for a while that Netflix's domestic market has been approaching saturation. The company's paid subscriber base grew just 6.2% YoY (year-over-year) in the fourth quarter, compared with 10.9% YoY in the third quarter.
Article continues below advertisement
Netflix's slowing domestic market hurts its growth
As the graph above shows, Netflix's US paid subscriber growth has decelerated over the past several quarters. While the company's price hikes across all US plans could boost its revenue, its decelerating US subscriber growth could offset that—per subscriber, Netflix makes more in US markets than in international markets.
More issues for Netflix in the United States
While the company has established a loyal US subscriber base, it may soon face stiff competition, particularly domestically. Several media giants have announced that they are launching streaming services in the United States, and these media giants could hurt Netflix by stripping content outright or charging Netflix a much higher fee to license their content. Therefore, while Netflix is still a leader in US streaming, headwinds are strengthening in the country.