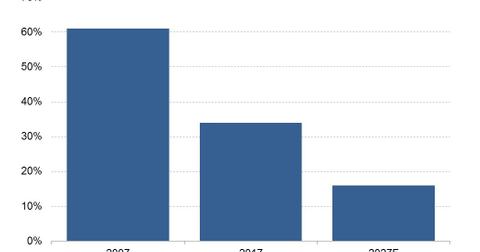 The Good and the Bad for PayPal in the UK
By Neha Gupta

Jan. 2 2019, Updated 2:15 p.m. ET
iZettle deal runs into hurdles in the United Kingdom
PayPal (PYPL) is due to report its fourth-quarter earnings results at a time when it appears to have run into both opportunities and challenges in the UK market. First, let's talk about the challenges.
The United Kingdom's antitrust regulator has raised concerns about PayPal's takeover of payment company iZettle, which sells devices that allow even small traders to accept credit card payments. In a statement released in December, the UK Competition and Markets Authority said that its initial review of the takeover had raised competition questions and that it was launching an in-depth review of the deal, a process that may take several months to complete and could delay PayPal's plans for iZettle.
Article continues below advertisement
PayPal's greatest threat is diminishing
The opportunity for PayPal in the United Kingdom is that the country is rapidly shunning cash transactions. Why is this important? PayPal considers cash to be its greatest threat, the company's chief technology officer, Sri Shivananda, said in an interview with CNBC in 2018. The decline in cash usage in the United Kingdom should be good news for the company.
Data from banking group UK Finance show that cash accounted for 34% of all payment transactions in the United Kingdom in 2017, down from 61% in 2007. The fall in cash usage in the United Kingdom is expected to continue and to reach just 16% of the country's total payment transactions by 2027.
Other payment companies could also benefit
The decline of cash in the United Kingdom is a rising tide lifting all boats. Square (SQ), Google (GOOGL), and Samsung (SSNLF) are the other companies that run digital payment businesses in the United Kingdom. Samsung launched its Samsung Pay service in the region in May 2017, while Google Pay has been available in the region for a while. In the United Kingdom, PayPal handles payments for e-commerce companies such as eBay (EBAY), which also runs auto classifieds sites there.