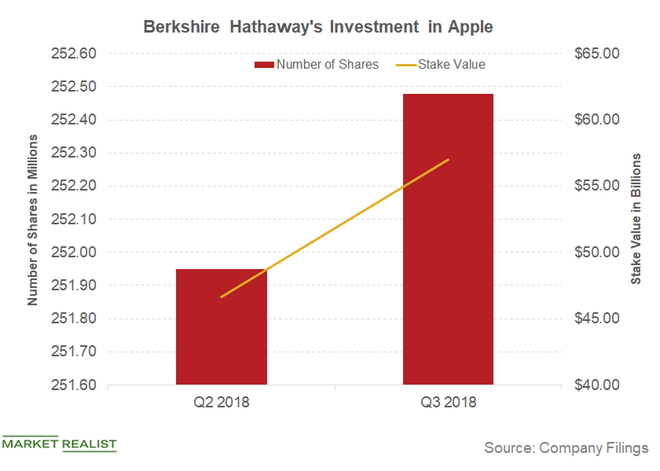 Scale: A Boon or Bane for Apple and Warren Buffett?
By Mohit Oberoi, CFA

Dec. 4 2020, Updated 10:53 a.m. ET
Scale
As we noted in the previous part, Apple (AAPL) and Berkshire Hathaway (BRK-B) have tons of cash. While Apple has looked at buybacks, Berkshire Hathaway has looked at investments and buybacks. Their massive size is another similarity between Apple and Berkshire Hathaway.
Article continues below advertisement
Boon or bane?
For Apple, as Buffett noted during last year's shareholder meeting, there aren't a lot of acquisition opportunities that fit into its scale. Even with Berkshire Hathaway, it's like a large mutual fund sitting on a $100 billion cash pile. Buffett has admitted that there aren't many opportunities to profitably deploy cash. The last major outright acquisition that Buffett made was in 2015. Buffett said that the deal was expensive. Buffett also discussed scale during last year's annual shareholder meeting. In response to a question, Buffett said that "the problem that all of us has is size. It's harder to run even $12 billion or $13 billion, frankly, than it is to run $1 billion." Scale is also a boon for Berkshire Hathaway. Scale helps Berkshire Hathaway look at big opportunities and major acquisitions.
Banking exposure
Buffett sold some Wells Fargo (WFC) shares in the third quarter in a bid to keep Berkshire Hathaway's stake in the bank below 10% to avoid regulatory hurdles. Buffett added JPMorgan Chase (JPM) to Berkshire Hathaway's portfolio in the third quarter. Berkshire Hathaway also added some Bank of America (BAC) shares in the third quarter.
Read Following Warren Buffett Might Not Always Yield Profits for more analysis on Buffett.