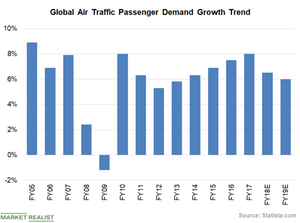 Research Companies Project Margin Expansion for Airlines in 2019
By Anirudha Bhagat

Jan. 2 2019, Updated 4:30 p.m. ET
Research companies' bullish stances
In the last few months, the airline industry has received bullish recommendations from top research companies such as Goldman Sachs (GS) and Credit Suisse (CS). In November, the two companies initiated coverage on the industry with attractive ratings.
In a note to clients, Goldman Sachs analyst Catherine O'Brien wrote that a healthy travel demand environment, a strong revenue growth trend, and efficient cost management would lead the airline industry toward margin expansion in 2019.
Article continues below advertisement
In her opinion, the industry has restructured in the last few years, and consolidation has helped companies rationalize their fleets and networks. The companies in the space are focusing on cost savings and lowering their overhead expenses, allowing them to reduce their debt, strengthen their balance sheets, enhance shareholder returns, and reinvest in growth areas.
O'Brien's top stock picks in the space are American Airlines (AAL) and Alaska Air Group (ALK). The analyst has provided "buy" ratings on American Airlines and Alaska Air with price targets of $44.00 and $81.00, respectively.
Credit Suisse has a similar view
On November 19, Credit Suisse analyst Jose Caiado shared a similar view on the industry (FTXR). He also believes robust revenue growth trends and cost-control measures will drive airlines' margins higher in 2019 despite a surge in fuel prices.
Caiado has provided an "overweight" rating on the airline industry. He believes that a sustained focus on increasing revenues, improving balance sheets, and maximizing returns has made companies in the space capable of weathering a market recession or a sharp rise in oil prices. He also believes that oil prices will stay relatively stable, while robust air travel demand will provide air carriers with an opportunity to raise fares.
Caiado has "outperform" ratings on United Continental (UAL), Delta Air Lines (DAL), and Alaska Air with price targets of $113, $71, and $81, respectively. Justifying his ratings on these stocks, the analyst said that United Continental's turnaround efforts have been remarkable and ahead of schedule. Caiado believes that Delta stock is too cheap to ignore, and Alaska Air is his top pick in the group.