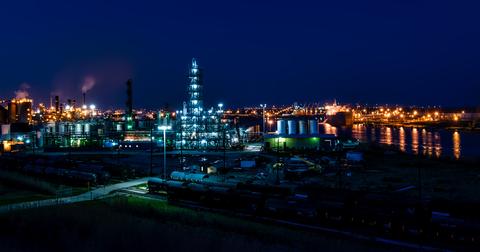 MPC, VLO, HFC, and PSX: Q4 Estimates and Rankings
By Maitali Ramkumar

Jan. 9 2019, Published 8:35 a.m. ET
Refiners' fourth-quarter estimates and rankings
In this series, we'll rank the refining stocks that analysts expect to see EPS growth YoY (year-over-year) in the fourth quarter. The four refining companies discussed in this series are Marathon Petroleum (MPC), HollyFrontier (HFC), Valero Energy (VLO), and Phillips 66 (PSX). We have also reviewed analysts' ratings for these stocks.
If we rank these refining stocks based on the expected EPS growth YoY in the fourth quarter, then HollyFrontier occupies the top spot. The company is expected to post a considerable increase in its earnings of ~144% YoY in the fourth quarter. Phillips 66's earnings could increase compared to Marathon Petroleum and Valero Energy. HollyFrontier and Phillips 66 have diversified earnings models that incorporate other segments like Chemicals and Midstream. Although the refining earnings could be weak in the fourth quarter, other segments could support HollyFrontier and Phillips 66's total earnings.
Analysts expect the refining earnings to fall YoY in the fourth quarter. Refining margin indicators and refining cracks in the industry point toward a weaker margin environment. The benchmark crack, the US Gulf Coast WTI 3-2-1, fell YoY in the fourth quarter.
In the fourth quarter, RIN (renewable identification number) prices weakened on a yearly basis, which could result in lower compliance expenses for refiners. The weakness in refining earnings due to lower margins could be partly offset by lower RIN expenses.
Article continues below advertisement
Analysts' ratings
If we consider the "buy" ratings assigned to these companies, then Marathon Petroleum has the highest "buy" ratings. HollyFrontier, which ranks first based on earnings growth, has the lowest "buy" ratings. We'll discuss analysts' ratings later in this series.
In this series, we'll discuss individual companies' estimated fourth-quarter earnings. Next, we'll discuss HollyFrontier.